TMC
203/6 MAE JO ROAD
(Across Ruam Choke Market)
Moo 6, T.Faham
Chiang Mai 50000 , Thailand
Tel:
053-854330, 053-854331
Fax:
053-246203
Mobile: 08-1111-2001
Outside Thailand
Tel:
66-53-854330, 66-53-854331
Fax:
66-53-246203
Mobile:
66-8-1111-2001
Email:
tmcschoolweb@gmail.com
Pick up and drop off service provided free at pick up points shown in the map here or using green pickup truck public transportation: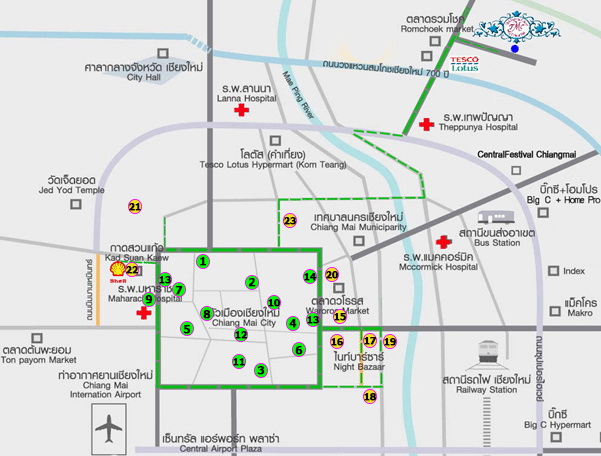 Please look at the video here:
For Taxi:
Across Ruam-Choke Market on Mae Jo Rd.
Note:
Observe street signs for school name on Mae Jo Road.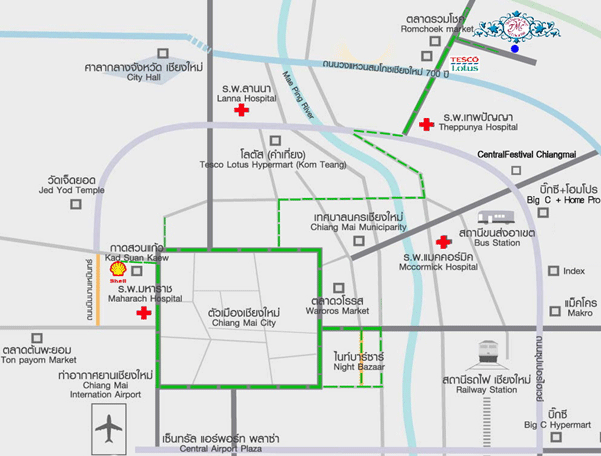 Direction for Taxi: Please show them this direction in Thai. The driver can call the school for direction. Most of them have cell phones.
TMC: โรงเรียนนวดไทยเชียงใหม่ หรือ ทีเอ็มซี อยู่ถนนเชียงใหม่-แม่โจ้ ตรงข้ามตลาดรวมโชค เลยตลาดเป็นปั้มน้ำมัน ป.ต.ท (PTT) กลับรถ วิ่งย้อนขึ้นมาผ่านหมู่บ้านสวนนนทรี ข้ามสะพานแม่คาว ก่อนถึงโลตัสมีโชค ให้เลี้ยวซ้ายเข้าซอย ดูป้ายโรงเรียนหน้าปากซอย (จะเห็นตั้งแต่หน้าตลาด)
Tel. 053-854330, 053-854331 Mobile. 081-111 2001
Click here for accommodation
enlarge this map

Note: Please click on TMC logo in the map to enhance your view.