It is a great inspiration to the hearts of all staff at TMC when we never stopped working our best in order to do all aspects of work as complete as we can and our students see it. From the testimonials and comments, some have given us names and we quote herewith only their first names and countries, some are anonymous, a few, we cannot read their names, some we get the date, some just for eternity. Therefore, what witness here are words from the hearts and minds of those who carry memories of TMC. There are many more that we hear them speak directly to us during graduation— before departing and for those words we keep them in our hearts. We are able to share those only in written documents evidence with you and the world here.
Click here for long program testimonials
Click here for group study testimonials
Testimonials and Comments : Thai Massage Short Courses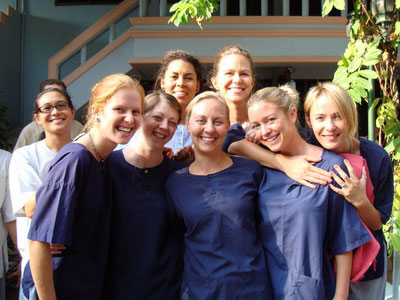 I really enjoy been here. Teachers are awesome. I learned a lot & school meet my expectation definitely. Of course, I will love to come back to TMC. If you really want to learn about Thai Massage. This is the place to be! Also enjoy meeting people from all over the world. Thank you TMC staff. I will recommend all my friends in Mexico."
Alejandro Gutierrez
Mexico
Foundation of Thai Massage: 30 hours : 18 September 2015

Initially the immense detail of the course structure, including photos was a large factor in choosing TMC. Backed up with the support of the AAMT so that these skills will be recognized in my home country. Instructions are clear, set up and illustrated well. Demonstrations fun to learn. Khun Kru Dao is hilarious and a great instructor."
Manoy
Australia
Foundation of Thai Massage: 30 hours : 18 September 2015

TMC is one of the best Thai school for massage. The teachers are very knowledgable on what they do and teach. I enjoy Dao's teaching very thorough and precise. I will for sure come back and continue along in the future."
Renilda Foy
Canada
Comprehensive Thai Massage 90 Hours: 17 September 2015

I was surprise by the professionalism of the school. They provide a wonderful environment for learning. The price and quality ratio is amazing."
Louis
Canada
Foundation of Thai Massage: 30 hours : 17 September 2015

TMC spoke to me from the very start of my Thai Massage School research. I am 100% satisfied with my decision to attend TMC. Staff is absolutely incredible , very clean, organized and professional. Dao is a true delight and has the magic touch with Thai massage! I love TMC!"
Carrie R. Hall
U.S.A
Foundation of Thai Massage: 30 hours : 17 September 2015

eachers are very friendly very helpful, paid a lot attention on student. I will come back again. Recommended to people who want to learn real Thai Massage."
Jane
UK
Thai Table Massage: 6 September 2015

Very welcome staff, very helpful that's why I came back again."
Jane
UK
Thai Foot Massage: 30 August 2015

I choose TMC because of the reference from the site and because of the international accreditation."
Nataca Elena
Romania
Chair Massage: 22 August 2015

I really liked content! Amazing what you shared in 2 days. I'd like the manual to be a bit clearer so I could be more confident to remember what I learnt. Thank you for a wonderful learning experience!"
Shari
U.K
Thai Foot Massage: 23 August 2015

I have good feelings about TMC school. TMC offered sincere services and hospitality to the client. I will cherish the best moment I had in TMC school. Teacher is great and show a lot of determination to teach student. Khab Khun Mak Mak!"
Key (Mohd Akmal Abu Hassan)
Malaysia
Level 1: 24-29 August 2015

Because the presentation in the website looks professional. Feedback was very nice. I was looking for a serious school to learn Thai massage. I am very happy to studied here. Thank you, see you next year."
Patricia Bernal
Spain
Level 1: 24-29 August 2015

TMC school teaches and demonstrates excellent teaching skills. It does perform just like what it presented in the website to be. Excellent team & I learn a lot with effectiveness & efficiency. I enjoy the lessons a lot! Thank you TMC"
Zarina
Singapore
Comprehensive Thai Massage: 90 hours : 21.08.2015

I chose TMC because of the very detailed website and good reviews on Trip Advisor. I am very satisfied with the school everything is done in an organized and professional manner. Teachers are really nice and helpful. I feel like I learned a lot and wish I could stay for a longer course. Maybe in the future."
Matan Holland
Israel
Comprehensive Thai Massage: 90 hours : 21.08.2015
Recommend by a friend to learn massage at Chiang Mai. I like TMC because staff and teacher are friendly. Well arrangement for everything I had learn a lot of technique of massage from TMC school. Thanks TMC school."
Helen Wee
Malaysia
Foundation of Thai Massage: 30 hours: 6.08.15
TMC offers great hospitality to all students. Impressed by the systematic arrangement including pick up arrangement, class schedule, course content etc. Teacher is patient in delivering syllabus. Hands on practice is sufficient. TMC is a good choice for anyone whom like to explore into world of Thai Massage."
Lee Har
Malaysia
Foundation of Thai Massage: 30 hours: 6.08.15
I chose this school after reading on the web that had a quite good reputation, so I'm aware of what to propose discovering many different courses. I think that the first level, even for those who are notice in this topic is a really easy and complete course for discover the real art of Thai Massage. The teachers are all very helpful to clear up any misunderstanding. The classes are organized in order to be able to be followed one by one and learn a lot of things in just one week. I'm really interested in this art and if I can I will come back to get other knowledge of this art!! Thank you so much for all. See you soon and โชคดี"
Ticozzi Marco
Italy
Foundation of Thai Massage: 30 hours: 6.08.15
At first I found TMC on website and I noticed the seriousness of school. I read pretty all programs and the presentation of school and I choose TMC rather other school because it seemed a very good one than 1 guy that was already your student told me that this school was the best in Thailand. The explanations on website are so clear and corresponds totally with the practice at school. I think that the book is edited in a very good way:the images and explanations are clear and it can help a lot a student at the begins of Thai massage learning. The explanations by teachers were so clear and comprehensive. I learned a lot of things just in a few days. Thank to this school and teachers. Thank you very much for this experience and your knowledge was for me very precious. I hope to come back as soon as possible.
Ballerio Virna
Italy
Foundation of Thai Massage: 30 hours: 6.08.15
I selected TMC school as it is "the best school of Thai Massage" and now that I've been here I think it is true. Leaning process haven't been so hard because the teachers, they are very polite, smiling and friendly while they are teaching. Good explanations, and corrections. Thank you very much and I really hope to come back and do more hours to keep learning with you. Khob Khun Khaa"
Constanza-Connie
Chile
Foundation of Thai Massage: 30 hours: 6.08.15
It is well organized and the staff are very friendly and helpful. Efficient learning."
Wa Zhou
China
Table Massage Course: 16.08.2015
I read about TMC in the Lonely Planet Thailand. The Foot Massage Course for two days was a fantastic experience during my stay in Chiang Mai. I can highly recommend the school. The teachers and facilities are great and I felt in professional hands. Thank you so much!"
Jasmin Kohlbrecher
Germany
Foot Massage Course: 9.08.2015
Teachers are well trained and very professional in teaching. The atmosphere in the school is homely and everyone especially the instructions and staff respect you while you obtain your knowledge. I will enroll again for Level II&III and other courses as this opens my mind up to explore myself in the massage world."
Idrus
Singapore
Foundation of Thai Massage: 30 hours: 6.08.15
I discovered TMC on the internet. I found the school to be very professional structured and efficient with classes pile up and instruction. Everyone was very helpful with questions and any other thing that I needed. Thank you to all the teachers and staff."
Claire Orianda
Australia
Foundation of Thai Massage: 30 hours: 6.08.15
TMC does not only offer only an extremely informative 3 weeks but also for teaching with such a kind heart and making my time away from my friends and family still feel like home. Your extra special staff (teachers, housekeepers and office administrators) always went the extra mile to ensure all of TMC's students were not only learning all classroom/hands-on instruction properly but also that they were well cared for and had everything that they needed during and after school hours.

The course content was above all expected standard (especially after talking to students who attended other massage schools). TMC facilities were cleaner than I could have ever asked for as the staff works around the clock to make sure everything is in perfect order. The uniforms were clean and laundered every day, as well as all linens used throughout the day. The massage mats were disinfected everyday as well, and the air - conditioners in each classroom kept everyone cool and comfortable. The delicious hot tea, fresh cold drinking water and bowls, plates and utensils, and bananas were greatly appreciated during our long lunch.

You have left and unforgettable impression on my heart (and in my hands) that will last forever.

Thank you"
Karey Cooper, Owner/ Massage Therapist
California, USA
Graduate Level 1-2-3: 90 Hour Program July 2012
I'm very happy with the course. The school, the learning materials and the teachers are very good."
Anna C.
Spain
30.07.15

TMC is a great school with a specific teaching style. The classes are well organized and everything falls into a curriculum. They put a lot of emphasis on politeness, safety and effectiveness which excludes some traditional exercises."
Guillevmo O
Spain
30.07.15

Because I think I can work for special need children then this school provides a good course about massage for special need children."
Preechaya P.
Thailand
30.07.15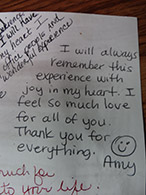 I will always remember this experience with joy in my heart. I feel so much love for all of you. Thank you for everything."
Amy
2015

Dearest Teachers, I honor you for sharing and teaching your knowledge and experience. A gift from all of you, I will have always with love in my heart, I thank all the teachers, office people and management for this wonderful experience, sincerely,"
Connie
2015

From my heart, I would like to express the gratitude I have to each one of our AMAZING Instructors. You have each shown unique qualities that truly represent this school so well as one of the best in Thailand. Safe, polite & effective. With love."
Leslie
2015

To all the instrtuctors, staff and officials of TMC. It was a priviledge and pleasure being a student here. Everyone is communal humble and just pleasant to be with. I really much enjoyed the welcoming ha[[y atmosphere. I thank especially our teachers. . . .and the others for accommodating and putting up with us."
Anasthasia
2015

I sincerely appreciate you all faculty and staff, you are most divine, safe- polite – effective."
Cathy
2015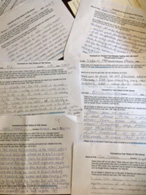 I chose TMC because the information on the school's website was clear and concise and allowed me to select a course that matched my needs to learn the fundamentals of Thai Traditional Massage. The staff responded promptly and helpfully to my enquiries from Australia, before I travelled to Thailand and I found my course to be well structured very well organized, informative and entertaining. I was blessed by being taught by teacher 'Dao' who has been with TMC since it opened and who shared her knowledge and skills willingly, patiently and humorously, Dao, I will miss your wonderful smile and laughter."
Greg Heard
Australia 10-14 Nov 2014
……TMC continues to perform according to students' expectation and fulfills its promises…
My three weeks spent at TMC was a wise investment of my time & money. I received a wealth of practical Thai massage techniques that I will be able to immediately use in my practice. From my first day to my last, the teaching was precise and consistent. TMC has mastered being efficient and loving at the same time. Everyone working at TMC was friendly and helpful in every way imaginable. Thank you, thank you, and thank you. I look forward to continuing my education at this wonderful school."
Lawrence
Santa FE, NM, USA
14.02.14
Professional, friendly, trustworthy, polite with a good system."
Mouji
Taiwan
25.12.13
Thank you for a wonderful 3 weeks at TMC. As a senior participant, with some physical limitations due to an arthritic hip, I have been warmly accepted into the program and well taken care of.

The teachers are very dedicated and patient. There is a lot of material to cover, but it is presented in a clear method with lots of hands-on practice time. The workbooks are laid out in a clear way so that it will easy to follow when one goes home and practices more. I am a registered massage therapist and can see how I will be able to integrate some of the techniques I have learned here.

Apart from all the knowledge I have gained, the feelings of being part of an extended family is what I will cherish. Thank you."
Elizabeth
Canada
January 2013

The school and teachers very professional, like that they take the temperature on every student when they arrive in the morning. The teachers go slow so you don't miss anything and it's very good when the students get to practice on the teachers to get good feedback.
Elin Einarsson
Sweden
October 2012
TMC was so much better than I expected, I am absolutely thinking about coming back to do level 4-5. I gonna recommend my classmates back in Sweden to go here on our next working experience time. Book is awesome and the teachers are so wonderful. Love them all, Infect, the whole staff you are fantastic.
Annamaria Larsen
Sweden
November 2012
TMC teachers are very professional and friendly. I had a great 2 days course Thai Table massage very intense and very good.
Fons Sarneel
New Zealand
November 2012
I have done a long research on the internet and I made my decision after I read comments on TMC. I have choose for professional team and school. The atmosphere is wonderful, clean, safety.
Giorgia
Italy
October 2012
TMC school is much better than I thought when I started my journey to Chiang Mai it is a fantastic school, so many great teachers with fantastic energy. I'm so happy that I choose to spend my weeks here at TMC.
Anna Larsen
Sweden
October 2012
The school is great! The teacher knows what they are doing and everything feels really professional. I think I will have a great time during my time at TMC!
Ebbs Hagglund
Sweden
October 2012
Very professional, great experience maybe I'll discovered a new passion? We'll see!
Nicole Schmidt
USA
October 2012
I love TMC! The teachers are great the classmates are great and the environment is also very good! I have learn a lot in these two weeks and looking forward to the third week.
Ebbs
Sweden
November 2012
Being a travelling physiotherapist I was lucky enough to work with different therapists all over Australia, NZ but still I could increase my knowledge and awareness of the human
body with the TMC Level 1. It was a good hands-on experience."
Michaela: Germany 24-8-12
Thank you very much with sharing all the experience to be the best Thai massage therapist in the world.  TMC school is a magic place with amazing teachers thinking of others first 100%. I will be back. Love you guys."
Paulina: Poland 4-1-12
I have been massage therapist for 20 years and at first I wasn't sure if this course would be professional enough or remedial enough to meet the need of my clients but by the start of the 2nd week I knew it would be. The teachers here are very helpful, very knowledgeable and very polite. The class numbers are kept small so you get plenty of 1 on 1 attention. If you thinking of attending another school because it's a few pounds or dollars cheaper each weak – DON"T- honestly this is the best value for money course you will find in Chiang Mai."
Deborah: Australia 11-12
This 3 weeks comprehensive course at TMC has been a wonderful, well-organized, well-informed, light hearted, informative and rewarding time. The class was small, the tutors very knowledgeable and I leave feeling very grateful & uplifted to have chosen this wonderful school. Thank you. I leave with many skills to share."
Hazel: UK 9-12-11
Interesting class, very useful technique! Great teacher!, thanks for all."
Miniga, Columbia 2011
Table Thai Massage - An excellent course adapted from traditional Thai massage for the Table.
The instructors were great taking time to reinforce each technique. Reception staff were welcoming + friendly. Very good value + learnt lots of new stuff that will please my client back in OZ. Highly recommended introduction to Thai massage."
Jose: Australia 2011
…good organization, dedicated in their teaching style of TMC…very good textbook, exactly in time like the Germans!"
Reinhart et al: Germany 2011
The atmosphere here is really conducive for learning. The staff was consistently sweet and patient, and I really felt this helped me to feel comfortable and open for taking in the information. I would have liked to take another course here, but unfortunately won't be here long enough. Thank you for a lovely addition to my trip, and some healing insight to take back with me. I also really appreciated the cleanliness & open air of the veranda - this seem rare from alternative places here in Thailand."
Hats off! U.S.A. (Thai massage course)
This has been so good. Thank you. The staff was excellent, caring. Followed us in every step! Want to hug you : Nice, clean and good smiling surroundings. Teaching was easy to follow. Good English and good demonstrations. Good atmosphere."
Norway (Thai massage course)
The instructors were very competent and patient. The combination of language, instruction and food was a great way to experience a part of Thai culture. I felt very comfortable in the atmosphere. Thank you."
Canada (Thai massage course)
This course was very good. My only suggestions would be for the staff to give "brutally" honest feedback at all points of the course. I felt like sometimes the staff would just say that I did everything "o.k." when it had in fact not been totally correct. We are all here to learn and criticism is part of the learning process. Other than that this course was extremely helpful.
U.S.A. (Therapeutic)
Note: Staff explained that the student did well, but agreed to be even more strict
Very good course. I feel I have learnt enough to be able to begin my practice at home. The teaching and demonstration were very thorough. I also had a lot of fun on the course."
England (Foot Reflexology)
Thank you for kindness. This class was very nice and slowly. So, I can understood easy. I will use massage. Thank you very much."
Japan (Foot Reflexology)
Very, very good days and all through the best service and food-lots of feed-and good tea. The staff has been so friendly everybody helped us all the way in a very calm, helpful and pedagogic way and with humor. Good speaking English everybody! I really enjoyed these days hope I will remember everything, and I will give great thoughts back to Sweden when I go home."
Sweden (Thai massage course)
Every thing was really great. Thanks for an unforgettable experience and of course knowledge."
Israel ( Foot Reflexology)
I really enjoyed my time here. I felt like the breaks and downtime were good to have. I enjoyed the tea and meals. I felt like all the instructors were more than willing to help and were sincerely interested in helping everyone learn proper technique. I'm having a hard time trying to think of any suggestions as the program seems to run pretty smooth."
U.S.A. (Thai Massage course)
I was introduced to Thai massage by two distinguished teacher and performer that showed profession, kindness and good traditions coming from great culture."
Akran: Egypt 2006
I believe that what comes from the heart always reach the heart. So because of the passion and the good heart of TMC people, Ive been able to understand a lot about the ethics and the techniques of the real Thai massage and Thai traditions. Thank you for everything."
Samer: Egypt 2006
So good! 100% Satisfaction and more! This is what we are all looking for: warm, welcoming and peaceful atmosphere, excellent teachers, great local food and delicious tea! After only 2 days course you will be able to stimulate any tired backpackers feet! I recommend it to all the travelers: this is the best Thai souvenir you can bring home! Thank you so much for the great experience and all the laughs! Unforgettable!"
Virginia: Switzerland 2006
I found the course wonderful with thoroughly supportive and cheerful staff. It could be helpful to have a booklist of books for future reading."
Ireland (Therapeutic course)
Note: There are list of Therapeutic books in variety of technique available now.
The teaching was excellent, a special thank you to the teacher for her patience and never-ending kindness. May be the teaching manual could be done in photographic style to avoid confusion. I had a great time and promise to keep it up."
London (Foot Reflexology)
Note: The manual has been revised and in photographic style.
I found the 2 days immensely informative but also thoroughly enjoyable. At no time were we "preached" at but mistakes were corrected with good nature-this atmosphere pervades the entire centre in fact!"
Ireland (Foot Reflexology)
Thank you so much. I did not expect to learn so much, or develop to this level of basic competence so quickly. What you have taught me, leaves me feeling confident that, with careful practice, I will have learned a very useful skill and will be able to provide Foot Reflexology."
Vanuatu (Foot Reflexology)
The Thai massage course is made easier with the help of friendly staff. The school is cleaned and the food is great."
Canada (Thai Massage course)

The reason I chose to come here is it looks professional to me and when I learned here, its true. Ive learned a lot."
Share: England 2005
I like the atmosphere and the way of teaching and the teachers here. The course is quite intensive in Level 1"
Richard: Germany 2005
I love the place here by the canal and its opposite to the fresh market. The teachers take good care of you, always asked you what you need. I feel relax here and the teaching here is very good."
Steven: Belgium 2005
Very well structured and organized. Very good workbook."
Takayoshi: Japan 2005
Thank you for sharing the beautiful experience of Thai massage with me. Your teachers are the best, their patient and knowledge made school a great experience."
Jen: U.S.A. 2005
I would like to say thank you. . . to teachers who give us the ancient knowledge of Thai massage, to TMC where is our new home in Thailand, to chef & house workers who cook rice and yummy vegetarian lunch, to drivers who drive & pick up us to school safely, to nice & clean school uniform for us to wear every day, to our friends – TMC destiny to share and support us to today.  I wish everyone always be happy.  I wish TMC be successful through the future, with love & light "
Melbourne, Australia

Home | About Us | Courses | Virtual Tours | Conference | Testimonials | Charity | Activities | FAQs | Contact Us


It is a great inspiration to the hearts of all staff at TMC when we never stopped working our best in order to do all aspects of work as complete as we can and our students see it. From the testimonials and comments, some have given us names and we quote herewith only their first names and countries, some are anonymous, a few, we cannot read their names, some we get the date, some just for eternity. Therefore, what witness here are words from the hearts and minds of those who carry memories of TMC. There are many more that we hear them speak directly to us during graduation— before departing and for those words we keep them in our hearts. We are able to share those only in written documents evidence with you and the world here.
Click here for short program testimonials
Click here for group study testimonials


Paul Buffel, Past NHPC (Natural Health Practitioners of Canada) Board President
Thai Massage Practitioner and RMT
Saskatoon, SK Canada
April 2014
"In addition to the exceptional learning experience at TMC, I have made lifelong friendships with students from around the globe. The camaraderie we shared during our time at TMC made an exceptional experience go even further beyond my expectations. You have set the bar high not only in standards of education, but in support of your current and alumni students to ensure a rich and rewarding career for us in Thai Massage."
 Botan Group:  5 week  program Evaluation,  Dec 13

The staff are very knowledgeable, experienced and are very helpful, I will definitely come back next year to pursue level 4 & 5.
Pedagogique, well organized, good supervision, small classes.
Atmosphere of the class is warm and clean.  Lessons are safe for giver and receiver.  And thanks for being on the way of great Yogi Paramahansa Yogananda.
Well equipped and clean.  Lots of manual practice.
Good book for the theory and some references.
Curriculum is complete and adopted to our wishes.  The benefit  of a school in a friendly atmosphere.  A smiley & available staff listening to your request.
I have been greatly surprised by the good attitude of all the staff, the professionality and the workbooks with all the technique.  I also found the school very inspiring for future projects. 
Excellent school,  good teachers and organization.  The herbal ball lesson is nice but it would be more useful to repeat all three levels during the last day (maybe just one 30 minute vdo on herbal ball).  Banana and tea break (15 minutes) in the afternoon is useless, if you want to keep it maybe the afternoon session should finish at 4:30 (instead of 4:00 pm).
Very friendly teachers.  Teachers have good experience and know how to transfer knowledge.  The style of the massage is rigid and all encompassing.  The course is very carefully designed and the techniques and positions are well executed.  All in all the TMC school is an organized and well managed institution.
Very welcoming and relaxed atmosphere.  Staff is very friendly, no pressure which is nice.  Everything is well organized.  Classroom and material very clean and modern.  Office very professional and helpful.  Unfortunately, many teachers lacking English language skills.  Anatomy, somehow confused descriptions by teachers.
The staff is very welcoming.  Courses are very clear and interesting, not overcrowded and you have enough time to practice so as to memorize all the sequences.
TMC makes the learning experience a very beautiful one. The days are  very interesting with plenty of techniques to apply and a lot of practice.
A good school, very serious and adapted to our expect patients.  A friendly atmosphere, a very nice staff.
You school makes alive it slogan "safe, polite and effective" thanks to its great staff, secretaries and teachers.  Only after a few weeks, I feel already confident in giving safe and effective Thai massage. Thanks to daily advices, corrections, help, and good materials.
Professional, clean and very caring.  The staff are very helpful, happy and try very hard to answer questions   it is extremely well organized, from enrollment to break times, course content and transport.  I have had a wonderful experience, learned a lot and made some great friends.

Testimonials and Comments:
Long Term Program : i5 and GCT
(Some may be from different courses)
I did Level 1 in 2012 and come back in 2015 to continue learning Thai massage at TMC. I appreciate the whole environment , the very friendly teacher and the lecture materials are very good."
Toni
Germany
Thai Massage Enhancement: Level 2: 4 September 2015

It is great that I can study here. Thought my English is poor but it's OK for me to understand during class. If somebody worry about what I'm worry about the bad communication. Don't hesitate! Just do it. And teacher is kind and classmate is friendly. We like a family and I think one day I will come back here for further course."
Chuzhi Wu (Echo)
China
Intensive Professional Thai Massage 150 Hours: 3 August to 4 September 2015

Thank you very much for all the kindness and compassion you shared with me while in Thailand. I make many new friends where at TMC and look forward to keeping in touch with everyone. I would like to thank all the TMC staff for a wonderful experience and the learning of a new massage style. Wish you all the best in the future. BKC"
Brian Carren
USA
Intensive Professional Thai Massage 150 Hours: 3 August to 4 September 2015


Overall, I am very happy that the course has started me on the road of being a Thai massage practitioner. We cover a lot of territory in a short time with lots of practice. I think I could become competent at this…thanks so much."
26.06.15

Everything was amazing! Can't wait to come back and learn more; staff was very organized, supportive…."
24.06.15

All your teachers and staff are amazing. Thank you for such an amazing experience. I will be recommending you to everyone. Thanks again"
10.04.15

So happy I chose TMC, great friendly staff, feel like family, very caring, I will be back, Thank you."

10.04.15

Thank you for this amazing experience! I learn a lot in this five week which flew by!"
10.04.15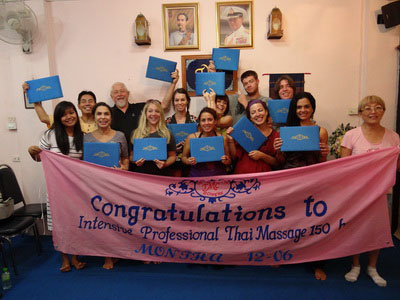 The TMC school is nice and friendly. I come to study here because my friends. They studied here before. I got more experience in Thai Massage. I hope this school still going on."
Simena Ccasa Sahuay
Peru
I5 Laddawan : 24.07.2015

Previous experience was very good. Teachers always trying their best. School maybe its better in reality than website. Thank you all for one more good experience."
Karamoutsios Nickolaos
Greece
I5 Laddawan : 24.07.2015
The first time I came to TMC, I completed the i5 course, I loved the school and learned a lot, seven years later, I returned to learn more. I was not disappointed. TMC is very organized and structured. They care about their students and desire to give them the best education & experience in Thailand they can provide. They bring in guest speakers from the university & hospital in the area to help us understand the body better. They also take us on fieldtrips to help give us understanding of the body & herbs used in Thai medicine. And they give us the opportunity to give back to the community that has taught us so much by massaging the elderly & disabled children and teaching at a correctional facility. This school, in my opinion is the best in Chiang Mai & one of the best massage schools I have ever attended. Thank you TMC!"
Jennifer Feldmeyes
10 October 2013
Thank you for all of you. See you later
Deloumeaux Yves
France
December 2012
Well organized school and very good teachers, yes I will come back in a few years to learn more. Thank you so much.
Harald
Denmark
December 2012 
Learning at TMC has been a great experience!  The training material is extremely thorough, the teachers are very nice and helpful, the facilities are big and clean and the staff is always willing to do whatever they can to make your and future students' experience the best possible.  What more can you ask for?
Erin: USA 23-8-12 
High Quality School of Traditional Thai Massage in Chiang Mai. Professionalism, integrity and nobility. They are the messengers of the ancient teachers. Thai Massage School of Chiang Mai (TMC) is fully accredited by the Thai Ministry of Education (this is essential). I recommend this school 1000%.
Xiao Ying: Spain 2012
To the wonderful staff of TMC, thank you so much for these very special 10 weeks from day 1.  You made us feel so welcome.  The lessons were always so interesting, yet fun at the same time.  I have really enjoyed myself.  It is with a heavy hear that I leave TMC today but I take with me so many happy and funny memories.  I hope to be back some day.  Many thanks, particularlyto our beautiful teachers.
Helen: Ireland 29.06.12
Thank you very much very much for your love and patience, for sharing your knowledge with us.  Your kindness and politeness impressed me so much and will be part of my guideline as well.  It was a very nice and useful experience and I hope I can return soon for level 2 and 3 to improve my skill.  Here I felt like home, I felt we all are a big family and now after 10 weeks spent together, I am a bit sad.  I must leave.  You do a great job here, I wish you all the best, good health and hope to see you again.
Gabor: 29.06.12
Dear TMC. Thank you so much for the opportunity of a lifetime.  I have learned so much about the art of Thai massage in such a short time.  I have also learned so much myself and others that I will take with me when whenever I go.  This has been the most memorable chapter of my life and the largest stepping stone I had the courage to actually take.  Please be well and good-bye for now but not forever.  Forever Grateful
Sabrine:  Jan-Mar 2012  
This has been a wonderful & fulfilling well spent time here at TMC !!!.  My teachers, out teachers here at TMC are the most heartwarming, fun, happy, lovely people here and made so grateful for their time & patient with each one of us.  I love and appreciate each one you for all that you have done and probably more!!  I am looking forward to crossing paths with each one of you in the future! Wonderful &gratifying time well spent.
Lisa: March 16, 2012

I enjoyed the weeks here and made good experience.  The GCT Teacher Program offers a big variety to the students and prepares well for the first teaching lesson.
Blanche: 16.09.11

Thank you TMC for keeping the ancient knowledge ALIVE.
Christos: 16-9-11
My feeling is of gratitude for providing me the means to become better and for an extraordinary experienced.  Hope to come back one day!
It is great school!  Maybe the best in Thailand, very friendly stuff and very skillful teachers.  They pay so much attention to us.  Thank you very much.  They pay so much attention to us.  Thank you very much.  I've got good basement for my development in Thai massage and I plan to keep this high level of education for my students and spread the knowledge of Thai massage as much as possible.  Not only in my country.  My best wishes, love, to all TMC school.  Wish you love, wellness, happiness and health.
 Vikor
First of all, thank you so much for all of your devotion for all knowledge about Thai massage.  I really enjoyed the class and will come to learn more for advance course.  Wish you all TMC group the very best for the future and life full of happiness, prosperity, love and successful.  Yours faithfully,
Grace
Thank you so much, lovely teachers + friends for your knowledge patience and support.  Such a wonderful experience to share.
Naimah
Thank you TMC for keeping the ancient knowledge ALIVE
Christos: 16-9-11
I stayed and joined the i5 class for 5 weeks. I have learned a great deal from TMC. The teachers are really great and know about Thai massage very well. I hope to come back to do the GCT 300 someday.
Mohinder: UK 2011
Professional, welcoming, understanding, friendly and also "funny".
Thanks to all teachers, for the happy mood, their knowledge they let us know in kindness and open hearted way.  Chok Dee, See you soon,
Naima: France 2011
I have studied Thai Massage for several years, including over 5 different lineages, at schools both in Thailand and in the U.S.A. TMC is the best school I have had the privilege of studying at. The teachers are excellent and exceptionally friendly & welcoming. The staff at TMC appear to truly represent what Thai massage is supposed to be about – " Love, Compassion, Joy, Equanimity". Many people profess to have these qualities yet lack a true representation. TMC is the only school that I have been to which offers history, theory, and anatomy to understand the "Why" and not just the "How to perform". I would not hesitate to recommend TMC to any one interested in learning about the Thai Healing Arts. I hope to return to further my study at TMC.
Georgianna: U.S.A. 2010
I have achieved lots and had so many fulfilling experiences in my life. I am pleased and proud to say that the act has been one of the very best times. My time at TMC has been mentally stimulating and refreshing spiritually and emotionally. Utmost respect to all the teachers, especially for their patience, and for the management for organizing such a fantastic school. I will be back next year.
Steve: U.K. 2010
It has been such a rich learning journey. I am grateful for the teaching and for the opportunity to work with different groups within the community. TMC seems to attract exceptional teachers and lecturers and a diverse range of wonderful students. I've learned so much about Thai massage, Thai culture & myself and the challenges along the way have been an important part of the experience. I have a solid foundation in Thai Massage and look forward to a lifetime of learning and growing into the practitioner and teacher I want to be. A heartfelt korp kun ka.
Beth : Australia 2010
I find that TMC is very well organized. There is no time wasted so I really feel I got value for money. Also I find the teachers very nice and patient and approachable.
Christina : Ireland 2010
Thank you for teaching me- every teacher in TMC. It is very benefit for me to join the GCT 300, because I understood what my problem was and what I should understand. In some part, I misunderstood the technique, but in Teaching Training, I would understand it. Thank you.
Hisanao : Japan 2010
I would like to thank all the teachers for your kindness, your patience and your smile and concern. 
I love you!!. Today it will be my last dand and I already miss you!  I have had a great time and who knows. . . maybe will see you next time again.  Lost of love and kisses,
Lien: Holland 18 Sept 2009
I am so happy I came to Thailand and have the pleasure to be a part of TMC Family Thank you so much.
Atanas: 2009
Thank you for all the nice time here in the school. Thanks for all of our teachers for their kindness and lovely teaching method that they are so opened for the difficult people all the time. I had such a great time here. Wish you the best!
Ildiko: 2009
Thank you for passing on your knowledge, techniques and hospitality. We hope to return to Chiang Mai soon. Best wishes and appreciation.
Brad and Danielle: Australia 2009
Thanks a lot to the school, to all the teachers, to the personnel. Thanks for the knowledge, for the attention and all these small things that not so obvious, but make the process of studying interesting, effective and warm. I was glad to come here for the second time. Will miss this place!
Irina: Russia 2009
I want to thank you all. You are all such wonderful people. I appreciate your love for Thai massage and helping me to learn. I have been coming here for two years, this is a very big part for me. I will miss all of your happy smiling faces. I know I will be back again. When I am doing Thai massage, TMC, Thailand, and all of you are with me in my heart. Many blessing! Sawadee, until we meet again!
Kimberly: U.S.A. 2008
I came to Chiang Mai with dreams of changing the health care system and I am leaving with tools to make my dreams into reality. Thank you TMC. I've learned so much and I'm grateful for what you have given.
Tae: Korea/U.S.A. 2008
I feel very good after ten weeks at TMC. I was a pleasure sometimes fun. It was big knowledge, a great opportunity to get into the world of Thai massage. A life experience!!! Thank you very much indeed. I hope you will continue your good work and will always improve your program.
Klaus: Germany 2008
Thank you very much for everything. You are my family and you take care of me all this time. You give me much love, knowledge and support in this beautiful art of healing/ I have made nice friends forever, and I will miss you all… I will to love all of you. God bless you and always protect you and give you happiness forever… I will stay in touch with you always, and I will continue to share the knowledge I learned to all the world. With all my love and best regards.
Eleni: Greece 2008
As you said to us – that we will be a part of the boy's life ( Juveniles) you—every single person from the school will be and already a part of my life. I want to show my appreciation to the great work you are doing and to say thank you to everybody. TMC- Thai Massage from two hands and the heart – was a great, important and wonderful experience at my way. Behind cultural – human – being problems, where everything and everybody is one. We hopefully will all meet again one day. I wish you all good energies and strength to get along your way and forever your beautiful vision and for carry it on into the world. Thank you so much.
Sibylle: Germany 2008
Thank you always for this experience which has always been a great one when I am here in Chiang Mai. I would like to thank all the teachers for their hard work, goodness and kindness they have given us. And to management to make this possible. I know it is a big job and responsibility to make the GCT course possible. Thank you and appreciation for all the effort you have put into this. Thank you again to all the teachers for passing on their knowledge to us, that hopefully we will pass it on too. A friend and faithful student.
Tommy: Spain 2008

Thank you for your caring of us. Thank you for being, so smyle, so kind, so friendly. Thank you for inspired me in so many different ways. Thank you for your love, care, harmony. I wish you to be inspired to teach, and to enjoy that beautiful process of growing up many years more. Thank you for sharing your heart with us. Thanks to all of you. Love
Kalin: Bulgaria 2008

Great Opportunity!! … It was wonderful experienced that I never thought this kind of school would exist. TMC can combine both practice and theory of how to teach to other that help students learn this extensive curriculum in a short time frame. I highly recommend everyone who wants to learn Thai traditional massage to TMC. This is the one – non elsewhere can achieve this objective. This is the best school in teaching Thai massage. Thank you.
Chock: Thai/U.S.A. 2008
Thank you for all the time you spend with us, all you teach to us. Thank you so much for your beautiful smiles.
Fleur: French/India 2008
I will miss your cheerful "Swasdi kha" in the morning and your "farewell" on Friday, when the week ends. I admire your unlimited tolerance towards the very different mentalities and behaviors of the students. This tolerance makes possible what rarely succeeds in the outside-world: Jew and Arab can hug each others, Greek and Turk can become good friends. This is unique and almost wonder.
Itai: Germany: 2008
The ten weeks were a unique experience for me. I appreciated the friendly atmosphere at school and the teachers. I will always remember this time at TMC and Chiang Mai.
Anthoula: Greece 2008
Thank you for accepting me back to school after my emergency trip to Saudi Arabia. Thank you for helping me with the language difficulties. Gey thank you for all your help and kindness. This is the beginning my relationship with TMC and not the end.
Mohammed: Saudi Arabia 2008
I would like to thank the teachers and the staff of TMC for a wonderful experience here. While the course was intense and exhausting, I loved it ! I learned al lot here and am thankful I came. I felt a deep sense of belonging and comfort at the school and always a positive energy. The teachers have been amazing every step of the way. They taught us well, helped heal us when we were ill or in pain, and never made us feel beneath them, and respect them equal level with them. I will cherish my memories from this experience and will never forget it. Thank you for taking such good care of us, and making us feel at home. Much love to you all.
Makelle: U.S.A. 2008
Firstly I really want to thank you all! I had a very good ten weeks here. Very good teaching, teachers. I believe I had a very good foundation of Thai massage. I actually told everyone I met in Chiang Mai. Sincerity, generosity and strong knowledge! Very well organized teaching system. I was proud of being here.
Figen: Turkey 2008

IT IS TIME TO LEAVE! And it is harder than I expected. I've learned about Thai massage but I also learnt to discover some fantastic people, with great energy. I will never forget my experience here and the time spent with all of you. I've made some good friends and I will go back to my life with my head full of good memories. Thanks for your teaching and patience, and your hospitality, keep up the good work! You are fantastic.
Morgan: U.K. 2008

I am very happy and satisfied with GCT 300 hour program. The new skills and techniques I have acquired will greatly help me in my teaching methods. I recommend this course to anyone. Thank you to all my teachers for a very enjoyable learning experience. All the best and I hope to come back soon.
Chris: Australia 2008
I want to say thank you to the school and especially to the teachers and all staff. It was a very good learning experience. I also wish TMC school all the best and good continuation in a valuable work.
Francois: Australia 2008
Some dreams come true easy because it is nearby. Some other dreams are more difficult because it takes more time and far away. My dream to become GCT student took me 3 years and to be far away. Some days I felt strong, some days weak, but I never lost the dream because you are always by my side. And they are with all respect and love. I thank you all with all my heart. God bless you.
Paola: Italy 2008

Love, kisses ad hugs to all my teachers. Thank you so much.
Evan: Greece 2008
I would like to thank all the teachers and staff. I enjoy learning here very much. If I have a chance, I would like to return for GCT 600 hour. Thank you for your patience to me and all my friends.
Pom: Thailand 2008
To go on with the GCT program was the very right decision for my future. Thank a lot for all the precious knowledge I could gain in the peaceful atmosphere of TMC.
Joceline: Germanry 2008

I have enjoyed my time at TMC school very much. It has been something of a life hanging experience for me and I have met many interesting people during my time here. The teachers are excellent and are full of knowledge and have helped us very much in learning Thai massage and teaching new skills which will be useful to us in the working world of massage. The sense of community among us of the GCT group is amazing. I can truthfully say we are something of a family all together after our time here together. I will take and keep the knowledge I have learned with me always and will continue to build and develop myself.
Brent: U.K. 2008

I would like to take this opportunity to thank all the TMC team. They have been so brilliant and very patient with everyone! TMC has been for me a real introduction to the Art of Thai Massage or "Nuad boran" as you call it. This teaching and this experience would stay forever and I should make time to practice and teach Thai

massage in a polite, effective and safe way.
Raymond:
France 2008
I would like to express my highest respect and adoration for the project TMC has created. Learning Thai massage and taking this knowledge home has become possible for everybody because of your efficient teaching system and the ideal and beautiful book you have edited. As well as your continuing efforts to endow your students with various knowledge related to medicine, pathology, metaphysic, etc. and encouragement for self-awareness and realization- all this in an interesting and vivid way. You school is perfectly structured and organized, managed in a pleasant smooth way _ the Thai Way_ Your highly valued staff are maintaining the good atmosphere. Thank you for everything! I am looking forward for a good affiliation relationship. Wishing you good health and lots of joy for existing and future projects.
Gaby: Germany 2008
The past 10 weeks have been of great value to me. The class has given me a strong foundation for further study and I've met people I hope to know for a life time. The teachers are wonderful: knowledgeable, compassionate, playful, attentive. Everyone here makes a point of creating a positive learning environment and looking for ways to improve the experience for the students.
Marjorie: U.S.A. 2008
Thank you for all the love, help, respect and patience from all of you.  I get a lot of new knowledge and I will use traditional Thai massage in a polite and safe manner!  Thank you for this experience.



Charles:

16.03.07
…We returned to continue GCT 300 program after taken 3 levels… We are very happy and this 7 weeks are flow without problems. Thanks at the excellent organization of the staff and the amazing feeling In our groups GCT Kasalong class. Special thanks for our teachers that with patience, passion and pleasure give us the knowledge. Special thanks for the office for their responsibilities, to the cooks, to the drivers. To Jan and Noo for believing and continue giving us "The Thai Way".
We will never forget you.
Cristina and Marco: 2007
Thank you for all the love, help, respect and patience from all of you.  I get a lot of new knowledge and I will use traditional Thai massage in a polite and safe manner!  Thank you for this experience.



Charles:

16.03.07
In many countries TMC would be named as "a women's project". In Thailand nobody loses a word about the fact that there is a school, founded and shaped by two women, and with a staff of nearly 20 women. The fact that this seems to be normal in Thailand, makes the kingdom special and the school exceptional. Women are the motors in history. If there were no women, we would still live in the stone-age. Such as it was everything good in my life that I got from women. I am full of gratitude having had women as teachers of Thai massage.
Itai: Germany 2007
After completing GCT 600 hour program, I pursued more learning in Thai massage from different teachers and schools. I have found that TMC had given me the solid foundation that I can apply whenever I use other techniques for safety-politeness and effectiveness. I am very glad I have started at TMC.
Chong: Singapore 2006
I am very glad I was back for the next 300 hour course GCT Phase II. The school is in a very nice location. The classrooms and facilities are clean and neat and the school environment is great. The most important thing is that the people working here are nice people doing a very serious job and teaching in a way that make them strict. They are also very understanding and dealing with issues that appear in a very positive way. Thank you very much. I am happy I was back. I had a great time here I wish you have one more course so I can come back again. Thank you to the management team and thank you teachers. It was very nice to be here again with all of you.
Costandinos: Greece 2006
Coming to Chiang Mai to study Thai massage from TMC was one of the best decision that I ever made. TMC has been very attentive, caring, and professional at all levels. I feel privilege to be a part of this family.
Herman: U.S.A. 2006
Thank you so much to all my beloved teachers for all your kindness. It's my pleasure to study at TMC for 10 weeks. I love all the teachers.
Francis: Indonesia/U.S.A. 2006
I've had the blessing of the opportunity to have come to TMC in Chiang Mai, Thailand. I've not only learned but felt their love, dedication and respect toward each other, but also to their students (me), their culture, the teachers and their ancestor. I've been touch deep in my soul to the point of tears by the history and traditions being passed on generation to generation. I will bring them close to my heart for the rest of my journey in the beautiful place called earth. I promise to represent your teachings with my highest level of honor, respect to my clients, as you taught me. Thank you to you all.
Jose: Venezuela 2006

Thank you for creating this wonderful school that is full of love and light. In the beginning I thought I was here just to learn another skill, but in the end I received one of the most precious experiences in my life. The friendship and support Ive found here is priceless, as well as touching. Thank you again.
Pi-Fen: Taiwan 2006
Thank you for the wonderful experience and for the knowledge which you have given me over the past three weeks. Your instructors are true professionals and their genuine caring spirit has made the course most enjoyable. The course curriculum and textbooks are very well put together, which has made for a very smooth and stress-free learning experience. I now feel totally confident in applying Thai massage in my practice at home. I highly recommend this course to anyone in the massage industry and to anyone looking to broaden their horizons. Thank you for your hospitality and friendship! All the best and LOL.
Mike: U.S.A. 2006
My massage school experience this time, was amazing, especially because of the association with the different people from all around the world. I was also very impressed by the effort of the teachers, and I observed the international environment that was created.
Noriyoshi: Japan 2005
Thank you so much for all the work you put into the GCT program. You guys take care of us like we are family and I have appreciated it very much! I love the laughter and silliness that has come with learning Thai massage. The teachers have been so patient and loving with all of us. Thank you for sharing your amazing talents with us!
Melissa: U.S.A. 2005
WOW!! What a wonderfully stimulating experience. The school is blessed with an outstanding group of the most talented, caring, fun-loving staff. They are a credit to you, and bring a honor to the Thai massage style. I have been at home here, and will treasure my experience here. I wish you all much joy and happiness for the future. Keep up the good work! Lots of Love!!!
Barry: U.K. 2005
I truly wish to thank you all for the 3 months that we have spent together. I have enjoyed learning from you. I will remember this as a wonderful period of my life. I have grown, changed, and challenged myself to do new things with all of your support.
Ray: U.S.A. 2005
Thanks for the experience of a lifetime. Your generous spirit will not be forgotten. I fell blessed to have worked and learned from your knowledgable and fun teaching staff. The friends and memories I have made will change me forever.
Rachelle: U.S.A. 2005
You gave me the sunshine Thank you all of you, keep that wonderful joy and living! You teach me more than massage, but a way of living.
Kristell: France 2005
Thank you for all the interesting lessons you and the other GCTs have taught me. Im monumentally impressed with the quality of teachers, delicious food, and friendly administration, love and respect. Ive enjoyed my time here very much!
Tullio: South Africa 2005
It was really a pleasure for me to be at TMC, I enjoyed my time very much! You all are wonderful teachers, thanks a lot for all you gave me. I appreciate your great personalities and with how much love, warmth and understanding you care for your students. My time here was special and means a lot to me, you all are the reason!
Jan: Germany 2004
Thanks for your wonderful job, your assistance, but most of all love. I could make my wish come true, I'm sure I would have not made it without your help. I've enjoyed the practical classes, all the teachers were very helpful. I never had thought that one day I would be able to teach massage, but I did it. Thank you so much for everything and blessings to you all.
Mudya: Holland 2004
Thanks God! TMC is the best in Thailand. I love you all of the staff at TMC. I will never forget you.
Amir: Iran 2004
It was a big pleasure for me to be taught in this school by this teachers and this principals! Thank you for 10 weeks full of hard work, practice, emotions, fun, smile and conversations. It was a special experience and I keep all of it in my heart to carry on my way
Sofie: Germany 2004
I am very satisfied with the choice I have made of learning at TMC. The GCT course has given me a variety of great opportunities I would never get at other Thai massage schools. The school maintains a high standard of cleanliness and relaxing room interior. The teachers are friendly and willing to help students, and I did not hesitate to ask for instructions when I needed. These qualities of the school have done a great deal to comfort me. The time I had here will definitely remain as a good memory.
Makoto: Japan 2004
I want to say thank you for the warmth of the past 10 weeks, you've been so great! I'm grateful that I could learn the art of Thai Massage from your hands! I think I didn't only learn to massage, but also something more, which will enrich me deep inside. I also want to thank my classmates: Rees, Makoto, Gabby, Mary, Aya, Emi, Sophie, Jez and Niel. It was a pleasure to study with you, I think we had quite a lot laughs together I feel really good about going home now to my family and friends, because I'll come with this beautiful skill in my hands!
Nadia: Germany 2004
This experience at TMC has been an unexpected delight. I am very grateful for that moments decision that brought me to this school. I feel I have learned very much that will bring a new richness to me life and experiences with others. All the teachers and staff has been marvelous, full of joyful wisdom and playful consideration. I love you all, thank you!
Emilye: U.S.A. 2004
This has been a beautiful and rewarding 6 months, I have met many wonderful people and I learnt this art in the best environment and with the best guidance in Thailand Many thanks to all the teachers who have helped me learn Thai massage technique so well. I will miss you all.
Denzil: South Africa 2004
Thanks everyone at TMC for everything you have done for me over the past few months. You are all beautiful people with such big hearts. I am very happy for doing GCT program. It gave me a chance to get to know you better. You all have so much to offer. With more knowledge and confidence in Thai massage, I will do my best to represent the school back at home. I will miss you all. Thanks so much.
Alex: Canada 2003
 How do I say thank you to this amazing experience? I've learned so much over the past 10 weeks, not only about Thai massage, but about love, kindness and sharing. The teachers have a wealth of knowledge that they eager to share, while the other students that I've trained with have made this experience singularly unforgettable. The laughs, the dramas, the hard work have combined to make a wonderful story. Believe me, I'm writing it. TMC is pure sunshine. Each teacher is a ray of light. I'll think of you all when I attempt my sun salutations. I love you all and thank you from the very depths of my heart.
Lillian: Canada 2003
TMC is a really good place. I knew from my the first e-mail reply from Khun Jan that this is where I wanted to study Thai massage. The people here have nothing but kindness, patience and a sense of fun. You know you are treated as an individual and are cared for. I will 'practice, practice, practice' when I get back to the UK. I will not forget you all and will think of you when I am giving massage by my river on the Isle of Wight.
Joan: UK 2003
Gracias TMC. I have learned a lot, and I hope to continue with this beautiful art, the Thai massage art. Thank you for your help and generosity in this moment of my life. You will be always in my heart.
Ana: Columbia 2003
I'm very happy to find my way to TMC and enjoyed being a part of it. You have talented, respectful staff, great-peaceful environment to learn the wonderful art of Thai Massage. Thank you for showing me a new way in life. You're always stay in my heart.
Berni: Austria 2003
Thank you so much for making it possible to study the wonderful art of Thai Massage in such a loving environment. I enjoyed my time here very much. Thanks to all the wonderful teachers for spending their time and energy on the students. I will recommend you worldwide!
Philipp: Germany 2003
I am so happy I chose to study at TMC. The school offers so much to those who are willing to learn.
I recommend this school to anyone interested in learning Thai Massage.
Ray: USA 2003
Kawp Khun Very Much kna! You guy give great massage and make learning fun-Sanook! I've never done bodywork before, and now I feel that I have a much better sense of how to help someone by touch. There is a phobia of touch in Western World-we need more. You guys kept us working at it. I especially enjoyed giving massage at the Senior home. Jan & Noo you are good at giving good explanations for the way things are & listening to us. I'll be back for massage. I'll probably teach English here a bit. I love Kai. Thanks for your smiles.
Lisa: U.S.A. 2003
Perfect management. Professional teachers. Well structured program. Wonderful clean ambiance. Thanks for the opportunity that you give us especially the one week teaching people from the community. It was really a wonderful experience. I am really proud to achieve my study in this school. And I promise that I will teach many what they can do with "Two hands and a heart".
Toni: Lebanon 2003
A unique school compared with many others in Chiang Mai. Great programs with gratifying results Everyone who becomes a student here is proud with their decision of taking part in the programs that TMC has to offer. An amazing respectful, friendly and compassionate staff, to you all, I adore. To me, TMC's facility is an extremely comfortable learning environment. This school can satisfy everyone's ability to absorb the wonderful art forms of Thai Massage. The time shared here was precious. Constantly creating and building friendships with wonderful people that TMC attracts. I give TMC an A+ for how their lessons shed/shine/share light amongst everyone, well taught.
Casey: U.S.A. 2003

Home | About Us | Courses | Virtual Tours | Conference | Testimonials | Charity | Activities | FAQs | Contact Us



Group Study at TMC and Guests of TMC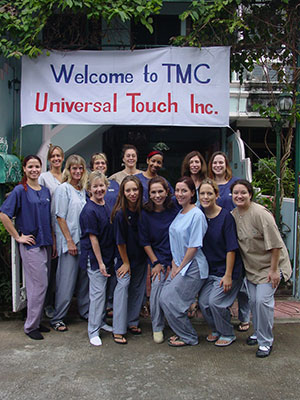 There are on-going groups of students from variety of field but with their interest to learn and get to know about the ancient art of Thai massage. Every year, TMC host several study groups to study from special short course to regular courses. The knowledge, no matter how much time they could invest in, they will cherish it in their hearts and their hands to bring home and present as the gift of the touch of love to their love ones. Thank you for giving us some of your insight about how we did.

Click here for long program testimonials
Click here for short courses testimonials
Our company ( Universal Touch, Inc. Deerfield Beach, FL. USA ) has been working with TMC School for over 5 years. The staff is excellent and go out of their way to help our students not only learn Thai Massage but to make their 3 weeks in Thailand an enjoyable and memorable experience. As the Thailand Trip administrator I am tasked with getting all of our students enrolled at TMC School and again the staff is excellent. They graciously accommodate any special request or need in a timely and very professional manor. I've dealt with many massage schools in the past 10 years, in both the USA and Thailand and TMC School is one of, if not the best."
UTouch Inc. U.S.A. 2012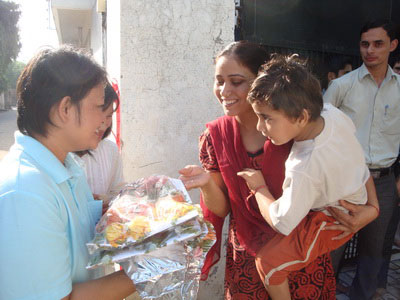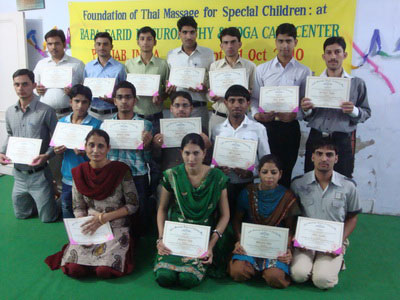 Subject:
Progress of special children to TMC school:
Heartiest congratulation to you and your staff specially Prof. Noy & Teacher Joy. They Taught us Thai massage with hard work & dedication but these things happen with your help so this whole   credit goes to you dear Jan. We got marvelous results in Special children ( Autistic+ cerebral Palsy   +Down Syndrome). As well as in general patients (cervical, constipation, migraine, calf muscle pain etc). I am also Attaching Few files of Special children, Those treated with Thai massage and Other Therapies also."
Dr Vipan Kumar:
30-7-2011
BABA FARID NATUROPATHY & YOGA CARE CENTER
PUNJAB. INDIA

www.babafaridcenterforspecialchildren.com
www.bfcfsc.com
On behalf of the group, I, the Director of Selaphoom Hospital, the Chief of Disabled Center and the team are very impressed to learn about the work here at TMC and SPF who have strong determination to revive and improve the condition of the disabled people, their bodies and minds, including the chance to earn additional income.  We are very impressed about the strong determination of the school to work out systematically how to improve the quality of Thai massage in the community.  We have also receive Thai massage which gave very good result, here at TMC.  Thank you very much for hospitality".
DR.Upathin Runguthaisiri:
Selaphoom Hospital, Thailand 17.12.10
(Translation from Thai)

The treatment I received was given in calm, soothing environment.  I not only feel relaxed but energized and love the whole manage treatment.  Thank you once again to TMC for providing such high standard of treatment, you do Thai Manage proud.  Regard"
Karen Nichol: Australia 14-10-10
Dear all at TMC  a very big thank you for a great massage.  Very relaxing and professional something I'll always remember!  Chiang Mai is an experience I'll treasure for life and maybe one day I would love to come back to this special place." 
Angela: Australia 14.10.10
Thank you very much for teaching our group Thai Massage.  What an amazing experience for all of us.  We will take our knowledge back with us and put it to wise use.  You have given a gift to our students which they will not soon forget.  Thank you for being so amazing kind.
 Dr. Mark Buegen, St. Cathrine Universsity, St.Paul, MN vsp 10.01.10
Thank you very much for giving us opportunity to visit your school.  People are so friendly and the place is interesting.  Hope we will meet again."
 Sari and Johanna, PT students from Finland.  20.11.2009
Lovely school, friendly staff, very educational, great facilities."
Students of Melbourne University: Australia 2009
To dear Jan, Noo, Gey and the wonderful girls at TMC, Thank you so much for sharing your wonderful gift of care with us."
 Tricia & Kevin Hughes: Australia 2009
"Dear Jan, Noo & the teachers, Your friendships and caring for all makes me humble.  You care for all young & old, able & disabled.  I am honored to spend time with your and thank you for the wonderful massage!  I look forward to your visit to Australia. Love & respect"
A friend from Australia
Thank you very much! You gave very good basement in Thai massage, teach us what we can do by our hands – our bless and richness.  You gave this knowledge to as from your heart.  I think this is best school on Thailand.  Here is very high standard of teaching and very good teachers.  All staff is very friendly and nice.  Thanks a lot from our group.  We will continue TMS tradition in our countries.  My love and best wishes for all of you!"
Jelena