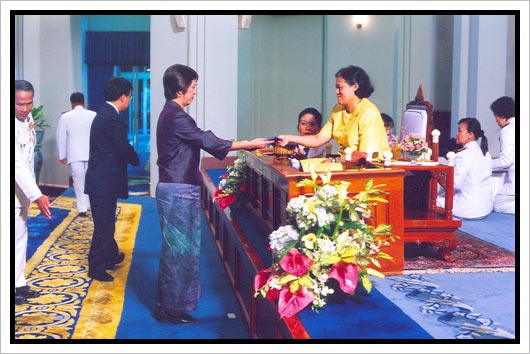 TMC School Director honorably received the King Royal Award for best school for the year of 2005 from 
Her Royal Highness the Crown Princess Maha Chakri Sirindhorn.
At TMC, students get the opportunity to learn and participate with the Thai culture and Thai community. TMC encourage students to give back to the community where they come and learn the ancient knowledge.
TMC 11th Year Anniversary: Moving Forward into the 12th Year of Excellence:
The celebration for TMC 11th year anniversary and moving forward into the year 12th have been most honor by our guests of honor from the government officials of Chiang Mai Education Department and the officials from Chiang Mai Cultural Department to join TMC teachers and staff and TMC students for this special occasion.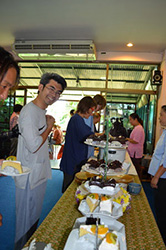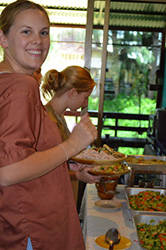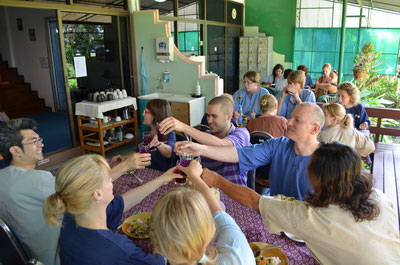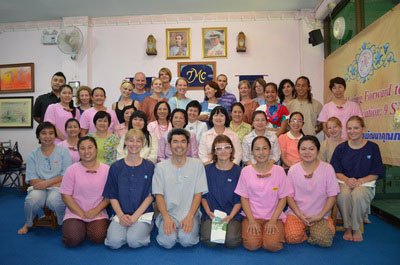 Memorable Visit by Father and Son: Ronan Le Joncour from Belgium TMC GCT 300 teacher in 2006: TMC students often return to visit school as part of their trips when they travel back to Thailand-Chiang Mai. Ronan brought his son to visit the school and pointed out his photo in the alumni book. Ronan mentioned that his son wishes to take the same class like his Dad in 5 years from now! TMC is like a family to all who have been here…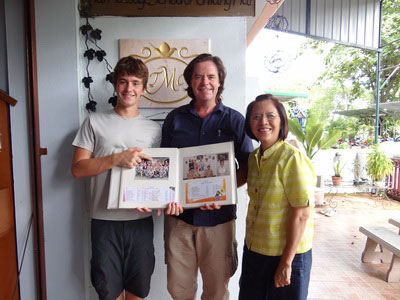 TMC 9th Year Anniversary
Dr. Chao Duangduan Na Chiangmai, Chiang Mai Cultural Council president, TMC Advisor presided over celebration for the ninth anniversary on September 9 2010.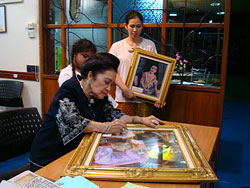 ---

Wai Kruu: Teacher Prayer
Students and teachers joined in sacred ceremony "Wai Kruu" offered prayer to honor and respect to all their teachers in their lives. The ceremony is held once a year in October during the anniversary of King Rama V whom we honor as the Father of Thai Massage.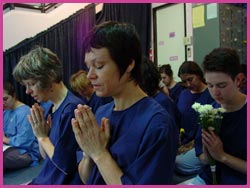 ---

Heartfelt Visit by top executives from AAMT, Australia and NHPC, Canada

Tricia Hughes CEO Australia Association of Massage Therapists. 
Colleen MacDougall Executive Manager Natural Health Practitioner of Canada
Honorable guests at TMC school. Take a tour of the school and received massage by TMC teachers.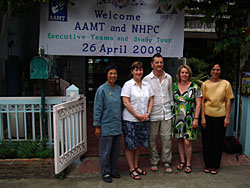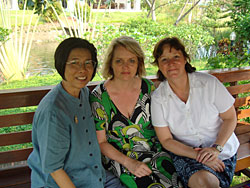 ---
Visit the children and the members at Special People Foundation Chiang Dao Disabled Center. During the opening of the Children Rehabilitation Room.





---

Faridcot, Punjab, India : 27 September -1 October, 2010 Thai Massage Healing for Special Children
---
Special Children Center Chiang Mai : 2009-2010 TMC Teacher Training Program(GCT) Thai Massage Healing Internship for Special Children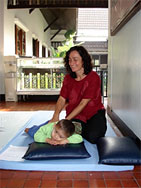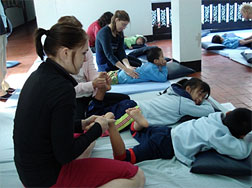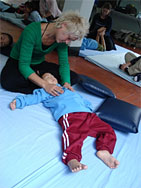 ---
Education time for TMC teachers: TMC teachers and management have the honor to visit and pay respect to our Monk teacher and our direct teacher at the temple all together during Thai New Year. Wat Nong Ya Nang, Uthaitani April 2010.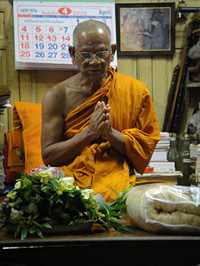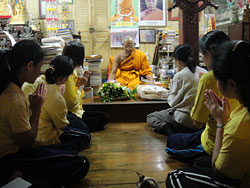 TMC team visited stroke (partial paralysis) patients at the temple compound. They perform self exercise; receive massage therapy and herbal steam.

Disciples offered meal to the monks and receive blessing from them.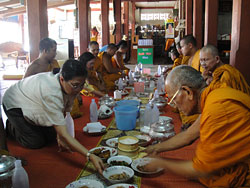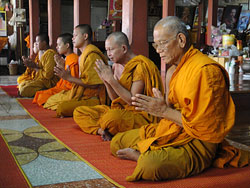 TMC teachers pay respect and receive - review and further training in therapeutic Thai massage from our great teacher "Arjan Tuan": Direct disciple for nearly 30 years from our Monk Teacher.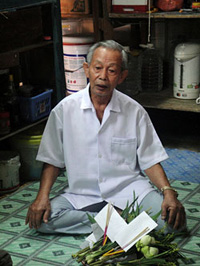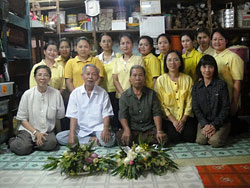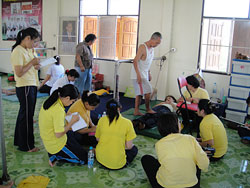 TMC team visited stroke (partial paralysis) patients at the temple compound. They perform self exercise; receive massage therapy and herbal steam.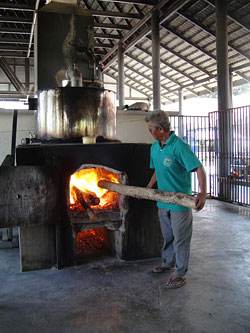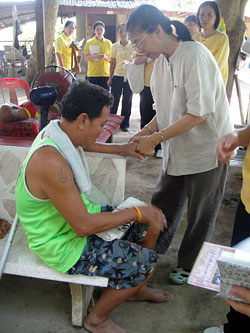 TMC team visited the famous Wat Tung Boa Pan, Lumpang - known for treating stroke patients. The temple is well organized treatment set up. They receive massage with herbs and herbal bath.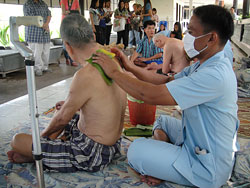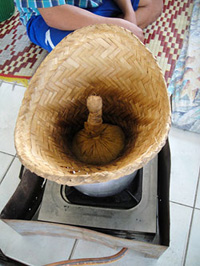 High ranking officials from Office of the Private Education Commission visited TMC 14 August 2009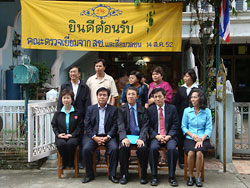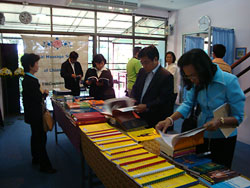 ---
Amazing result of GCT and TMC teachers training to 9 teens from the detention facility.
The girls studied 90 hour Thai massage training and volunteer to offer Thai massage to the disabled at Chiang Dao Disable Center in December 2007. 

---
Yogananda Foundation (The name has been changed to Special People Foundation) 

TMC provide support by giving massage service to the members. GCT and Intensive program interns went to the center and offered massage to the members with great result.
TMC will provide massage training to the members and the family members very soon.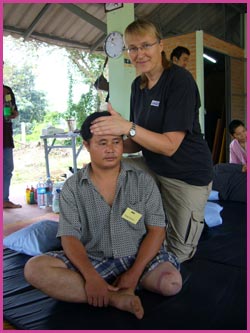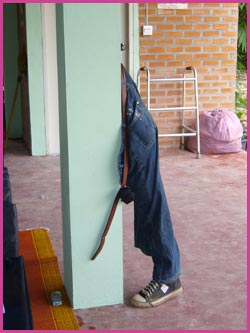 Lunch Time for Giver and Receiver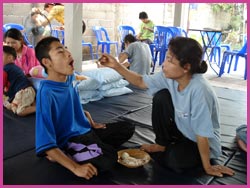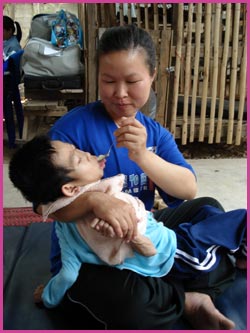 Using Herbal Ball with Thai massage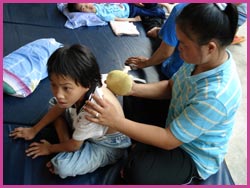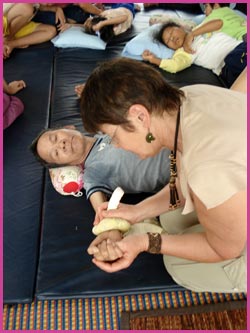 The members participate in painting Earth Bag as their recreation, and most important, for their food and living. Please see www.yoganandafoundation.orgfor complete details.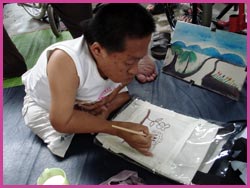 ---
TMC welcome the visit by the 3 Directors of Center of Career Development, Labor Departments from 3 Provinces in January 2007.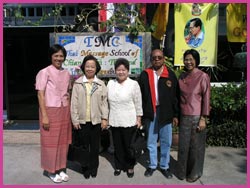 TMC was so happy to greet old friends from Ban Sabai Massage Shop from Philippines in January 2007. The owners had requested TMC teachers to train their staff for 3 trips in the past 2 years.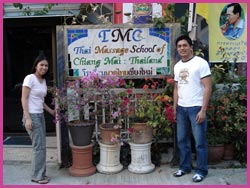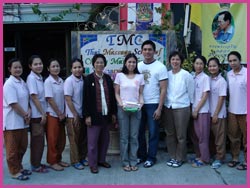 ---
TMC staff and students joined to honor His Majesty the King on his 79th and 80th birth day on 5 December 2006,2007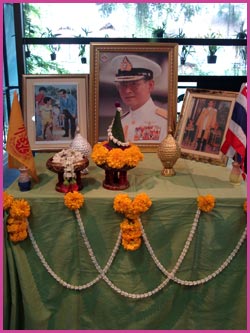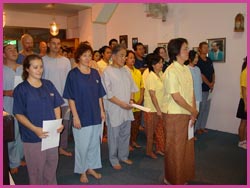 ---
Linfield College School of Nursing
Portland, Oregon, USA
13-14.01.13
---
TMC welcome therapists from Universal Touch Inc. during their 3 weeks training in Nov. 2006 and the return of Nov. 2007 group.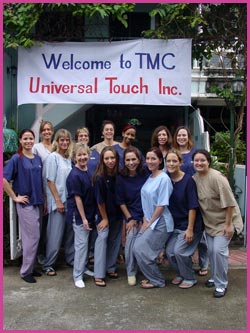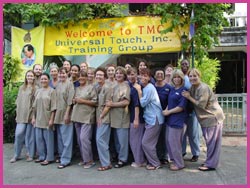 ---
TMC welcome students from Dr. Bob Smith 4th group to their training while visiting Thailand in Nov.2007.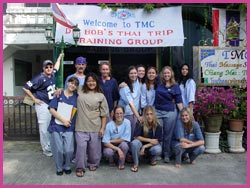 ---
TMC welcome Australia Association of Massage Therapists (AAMT) members for continuing education training in Thai massage October 2006.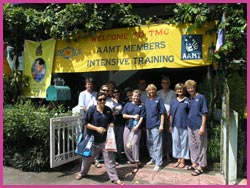 ---
GCT 2006-2007 graduation at TMC

Collection of Students' Performances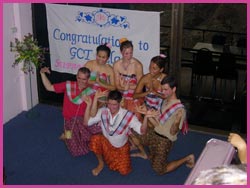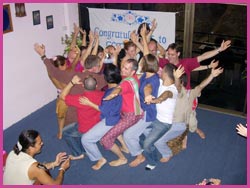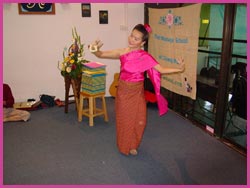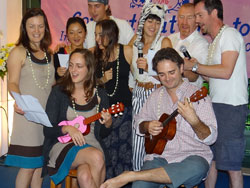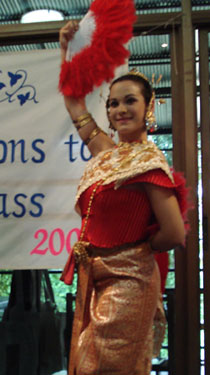 Supannika Class 2007 gave a Supannika tree to TMC… see how it grows in the rainbow!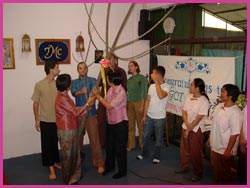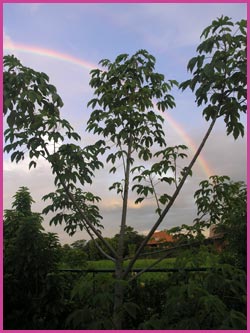 ---
Loy Kratong: Full moon November 2005-2007:

The holy festival to honor the Buddha and pay respect to the river of life by prepare, decorate flower base with flower, candle, incense and float it in the river. TMC students learned how to make them and proudly finished them during their lunch break.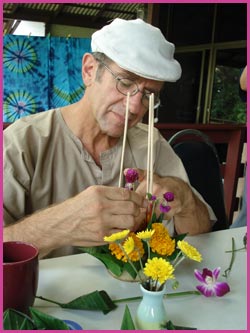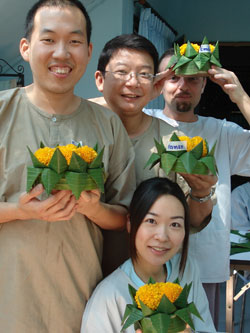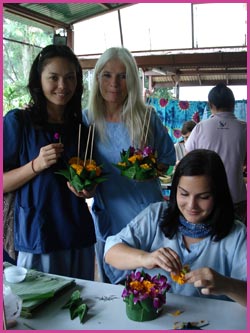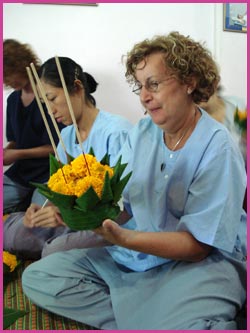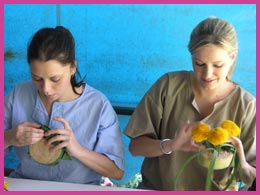 ---
Special 1 day training class for visitors from Spain 18-8-05: 
The short course is for basic Thai massage for relaxation. Everyone enjoy the day at TMC.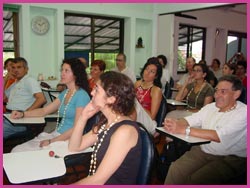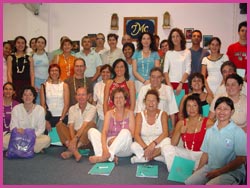 ---
Songkran festival after school: April 2005 
Students and staff in water game.