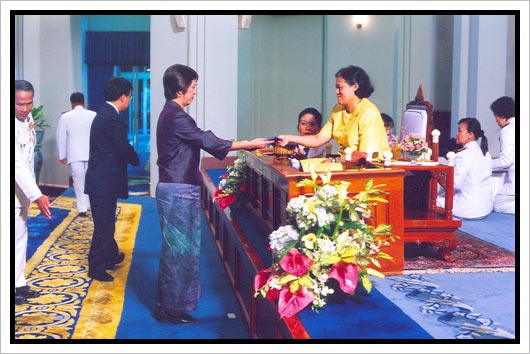 TMC School Director honorably received the King Royal Award for best school for the year of 2005 from 
Her Royal Highness the Crown Princess Maha Chakri Sirindhorn.
At TMC, students get the opportunity to learn and participate with the Thai culture and Thai community. TMC encourage students to give back to the community where they come and learn the ancient knowledge.
Representatives from Thai Ministry of Education and Thai Ministry of Public Health inspected TMC School on 27-28 April 2020 according to our proposal to arrange practical examination for 2 students who could not take practical examination before Covid-19 locking down. Eventually, our 2 students took practical examination and graduated successfully.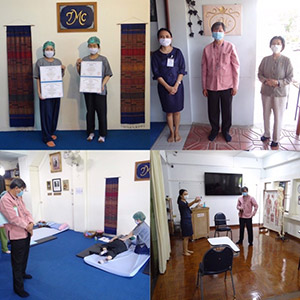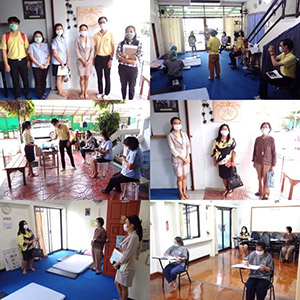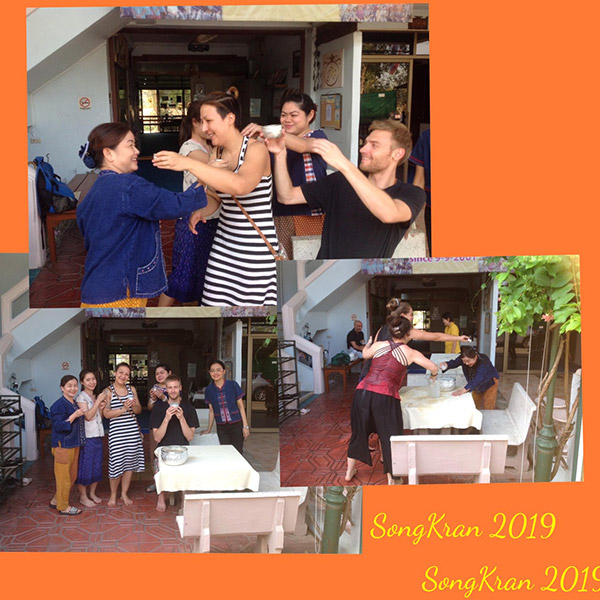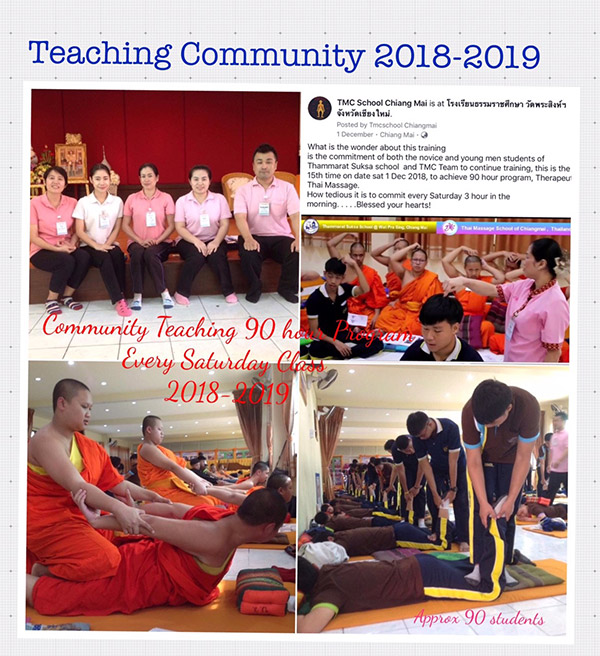 ---
TMC International Conference 2017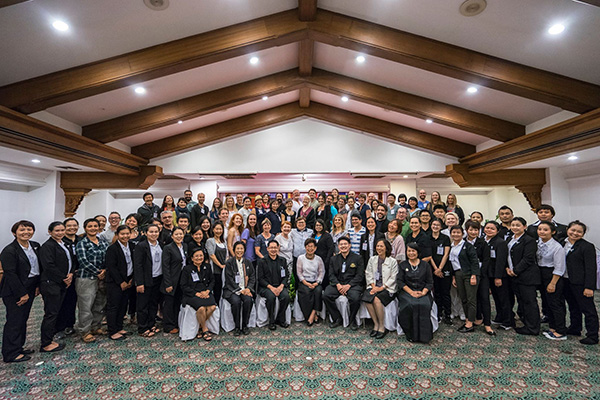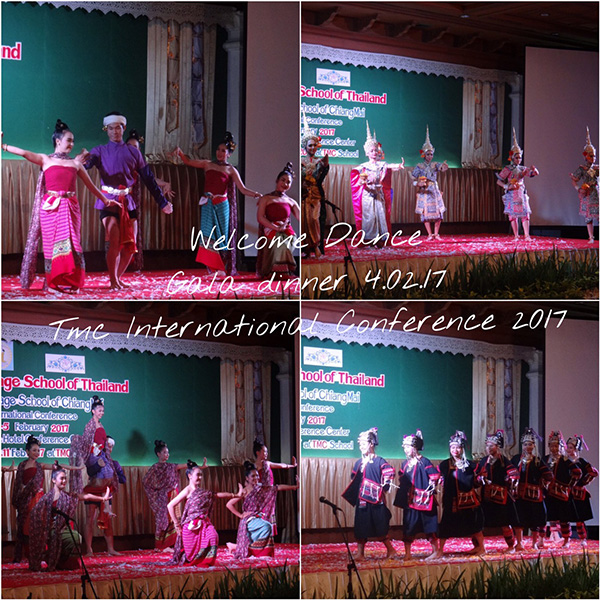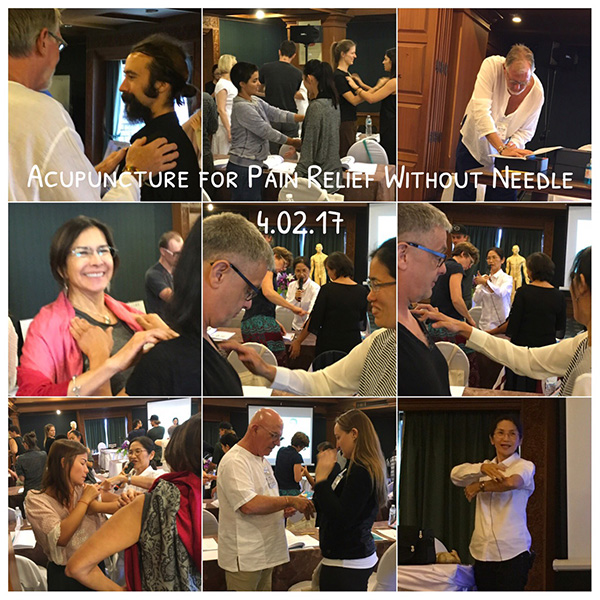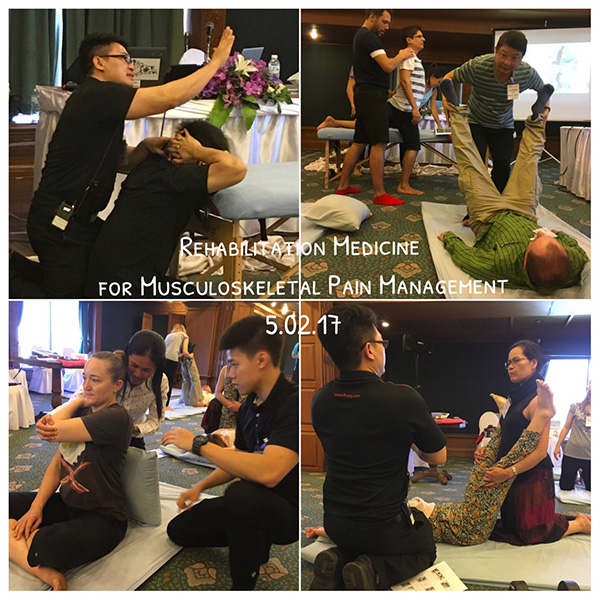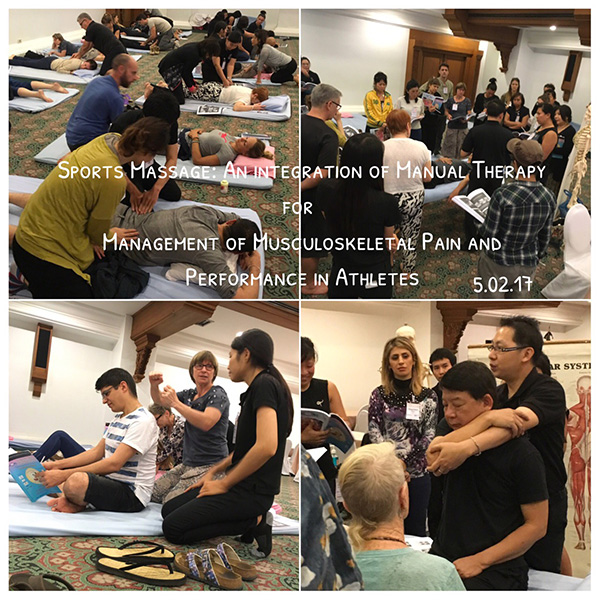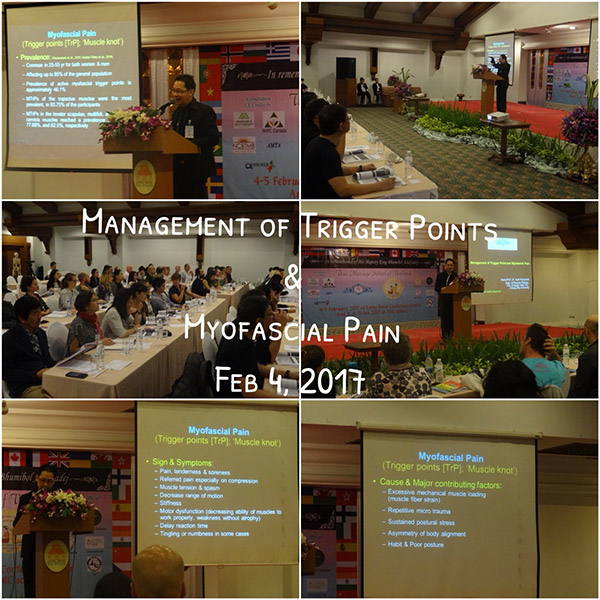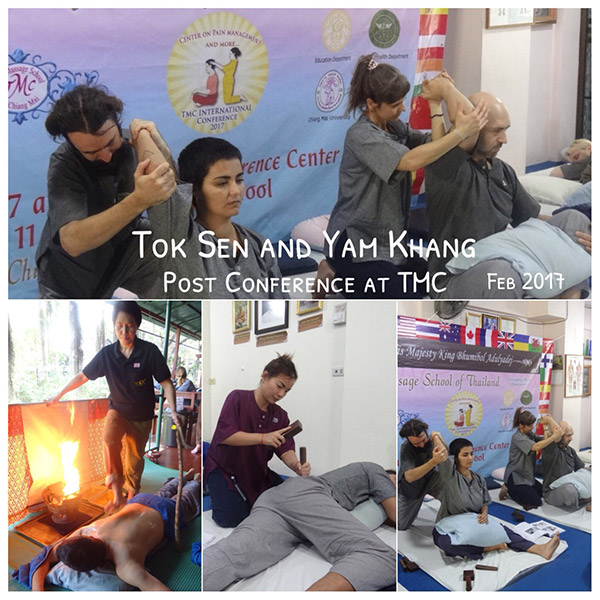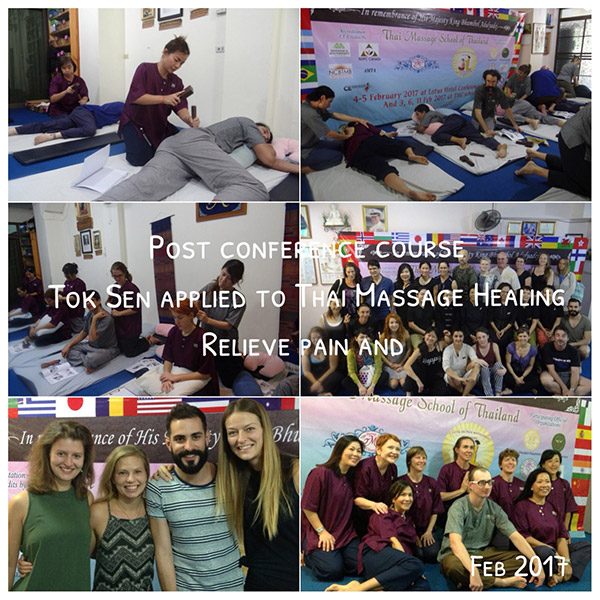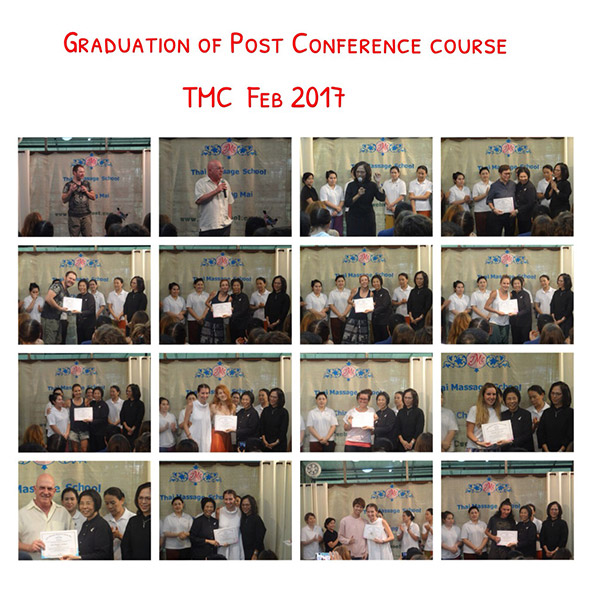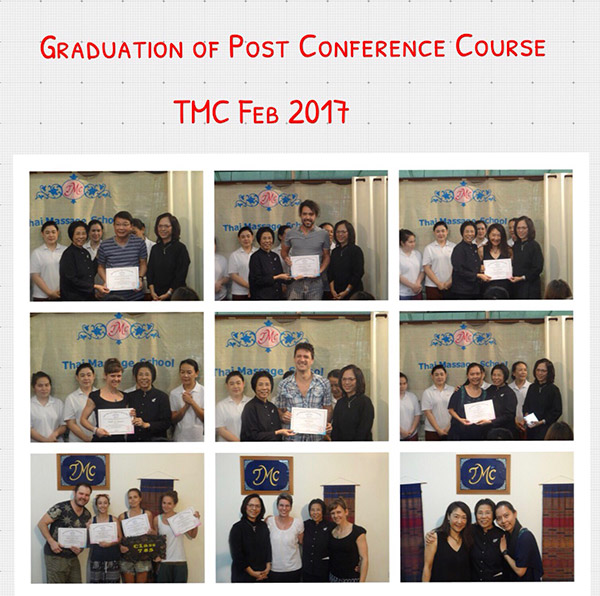 ---
Thai Massage School of Chiang Mai and Thai Massage School of Thailand presentation at the 9th Chiang Mai International Health Conference 2016.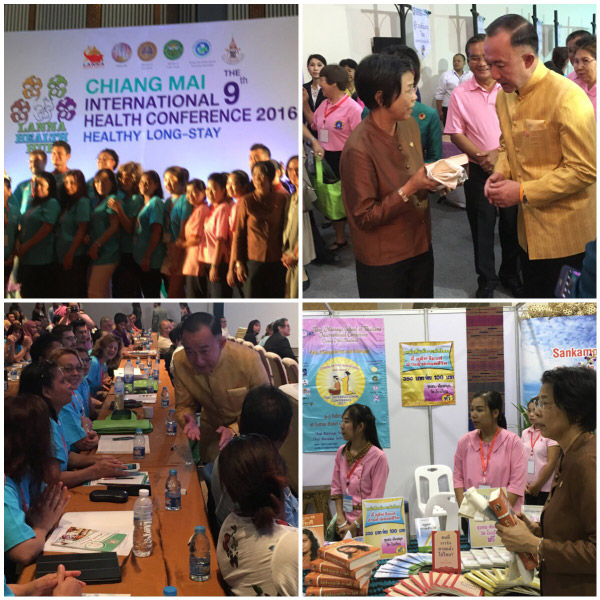 ---

Thai Massage School of Chiang Mai and Thai Massage School of Thailand presentation at the 7th Chiang Mai International Health Conference 2014.
"Longevity Lifestyle by Lanna Health Hub"

The event was a joint cooperation by the governor of Chiang Mai, the Public Health, the Commerce and Education Departments and also by the Health Association, Massage and Spa Association, Thai Massage School Association. The conference was honored by dignitaries from several embassies and consulates and local international private sectors.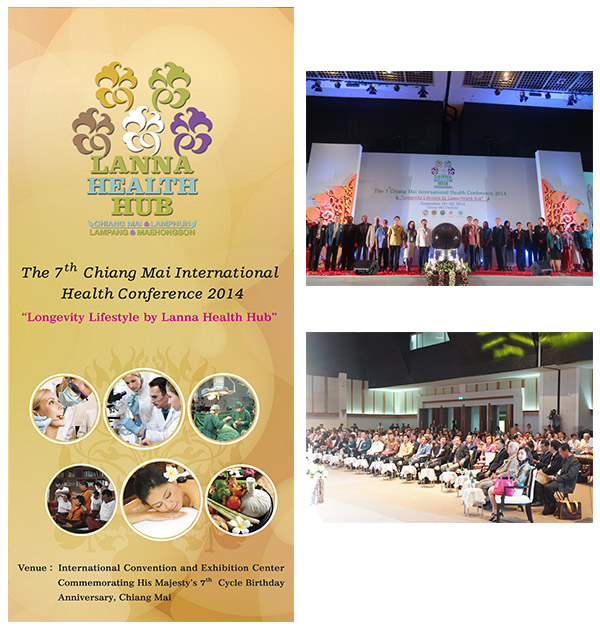 TMC students attended the conference.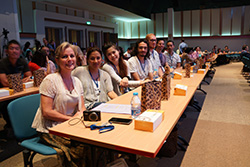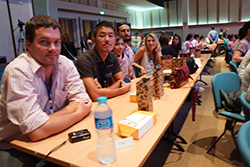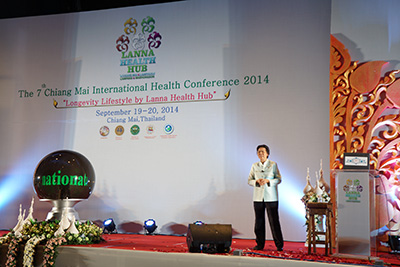 Thai Massage Stretching with Safety: A Demonstration Presentation
Introduction by Kanchanoo Muangsiri
School Director/ Co-founder
Thai Massage School of Chiang Mai and Thai Massage School of Thailand
Thai massage is beneficial to both body and mind even to spiritual aspect.
This presentation is about stretching and to perform with safety to both the recipient and the therapist.
Stretching is an important part of Thai massage.  It enhances effectiveness and produce immediate result in some.  Thai massage stretching also present the artistic version of the Thai art.  The movement is elegant with calculated posture to bring about the result. The heart of the Thai massage stretching is the knowledge and competent practice of the performer.  This will only accomplish with proper training from a qualified teacher of Thai massage.

Anyone who has the love for Thai massage can be one who offers this ancient art with successful result and with safety.

The cautions below are part of what massage therapist need to follow prior to perform or not to offer stretching position to the recipient.


Contraindications to Thai Massage Stretching
(and can be applied to Thai massage in general)
Injury or inflammation of muscles
Bone fracture and/or joint dislocation
Nerve related conditions
Severe ache and pain
Fever from any cause
Acute none severe illnesses
Post-surgery
High blood pressure
Stroke
Vascular conditions
Pregnancy/Menstruating woman
Ill health – chronic conditions
Other unsure physical conditions and illnesses
Some Safety Rules to Thai Massage Stretching
Do not perform massage techniques involving raising recipient's leg(s) above the heart level on a person who has heart condition, high blood pressure, is pregnant or in menstruating cycle.
Do not perform back stretching massage on a person who has back bone (spinal) problems.
Do not perform neck stretching massage on a person who has neck bone (cervical) problems.
Do not perform stretching massage on a weak or chronically ill person.
Ask for recipient's approval before performing stretching positions.
If recipient resists while performing stretching position, therapist must stop and ask recipient's condition before continuing.
When in doubt of recipient's condition, do not perform stretching massage.
The details stretching effect to muscles on the body are listed in the      Thai massage text book Ancient Thai Massage Healing with Life Force       3rd Edition by Jan Chaithavuthi and Kanchanoo Muangsiri available at www.Thaimassagebook.com and part of the text provided at Level I.
Video presentation by TMC teachers and GCT 600 Hour Program students.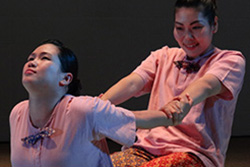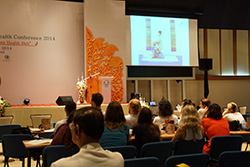 Thai massage stretching with safety postures by Boris Vukovic Neira, Shane T.U.Shiroma and Benjamin Sheppard: GCT Teacher Training 600 Hour Program.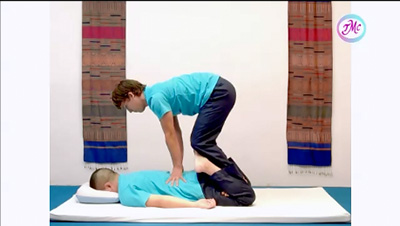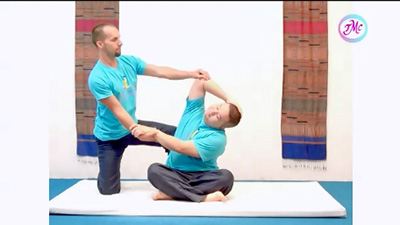 Live presentation of Thai Massage Stretching with Safety by Thai Massage School of Chiang Mai and Thai Massage School of Thailand teachers.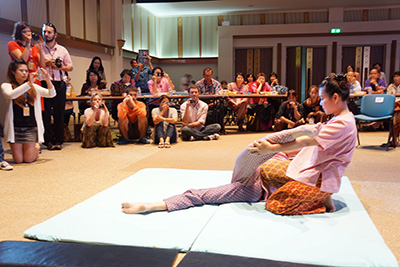 Thai Massage School of Chiang Mai and Thai Massage School of Thailand: All staff-teachers and students are united.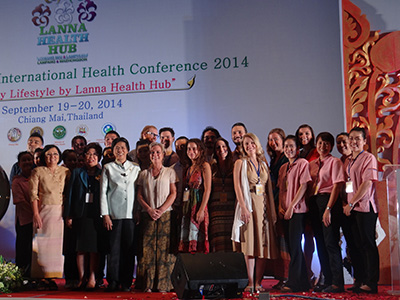 Chiang Mai International Health Conference presentation.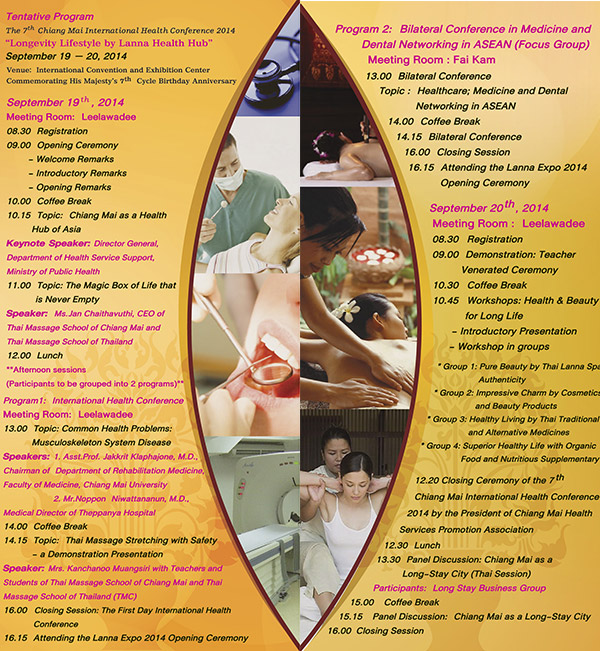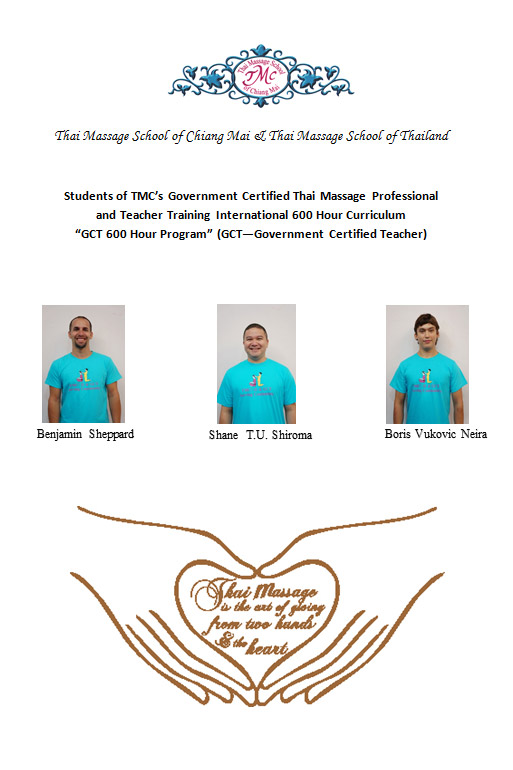 ---

Received Award: Excellent Quality School of 12 categories year 2013 and 2016.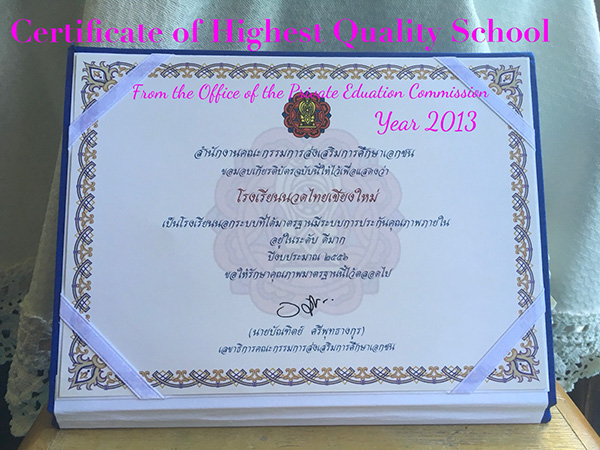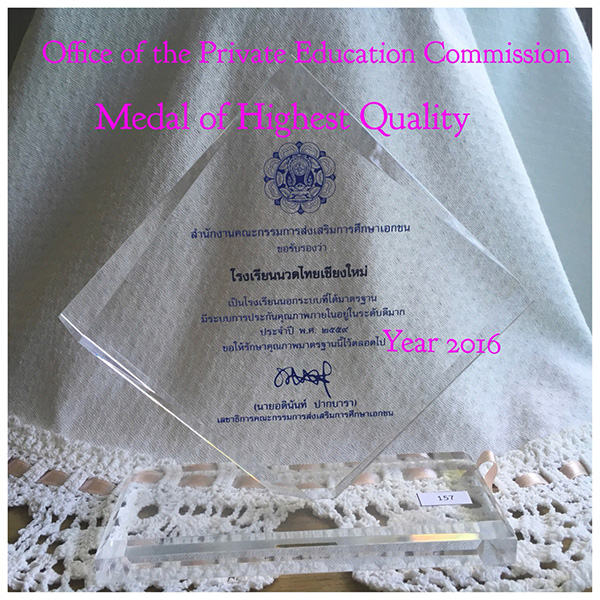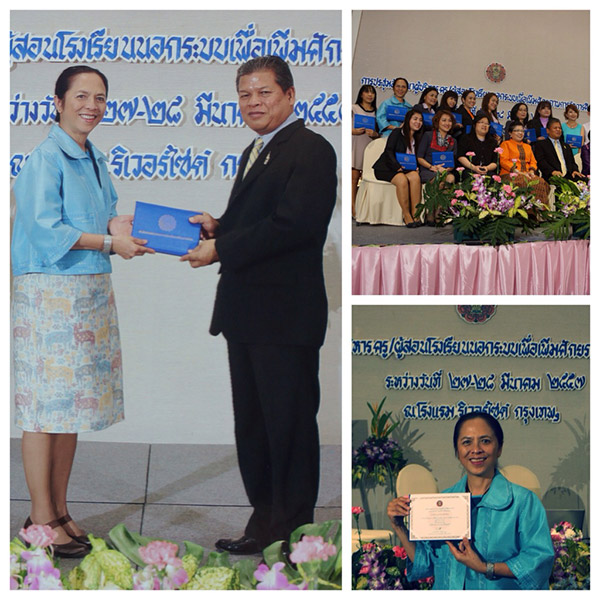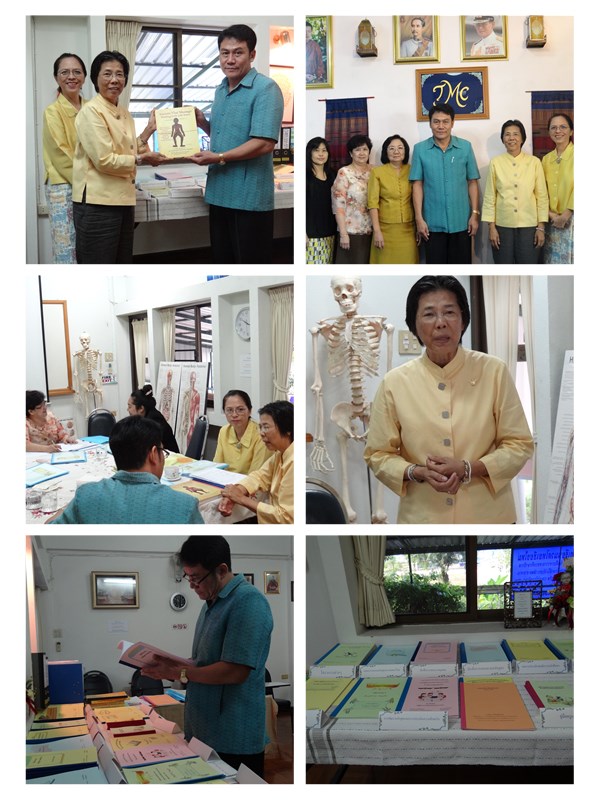 ---

Venerated Monk: Pass Away
Venerated Monk Loaung Phor SAMAI of Wat Nong Yanang
TMC's Monk Teacher & Advisor passed away
14 December 2013 at the age of 67

Thailand is mourning for the loss of the great healer Monk.
He was honored for outstanding Thai traditional medicine doctor 2011.
He established Thai Traditional Medicine BS degree curriculum for several universities.

He was a great and passionate teacher. His knowledge passed on to us among his thousand students will be carried on for the benefit of all mankind.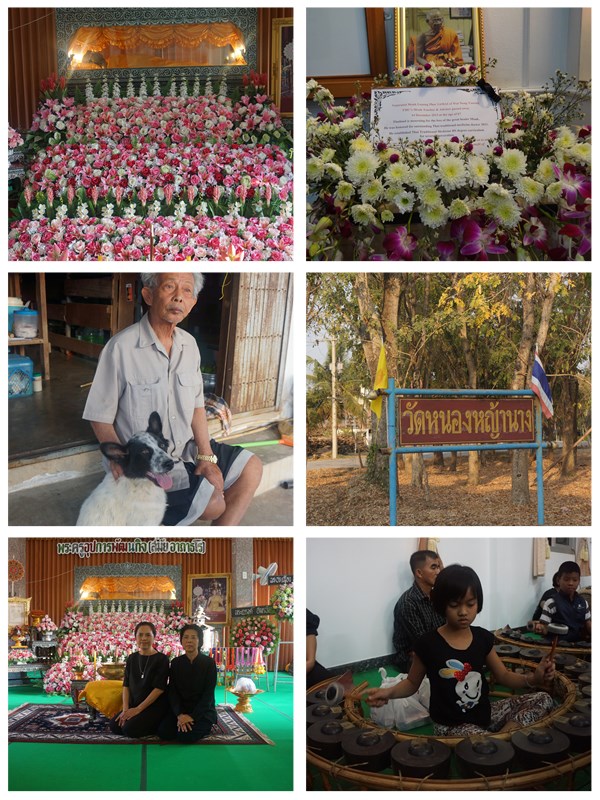 ---

Loy Krathong Festival
Every year, students get to learn how to do the KraThong to bring back to float in the evening.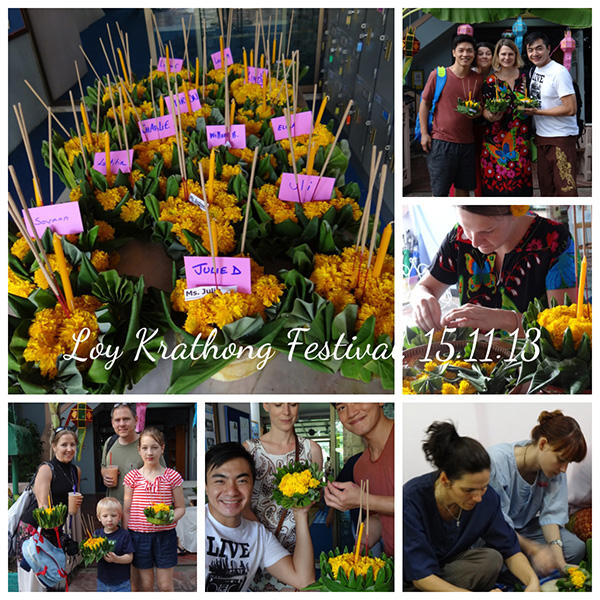 ---

TMC Celebration of Anniversary
TMC was officially presided over by the Last Princess of Lanna, Dr.Chao Duangduan na Chiang Mai on September 9, 2001. In 2005 received Royal Award best school and in 2013 and 2016, received best Quality Assurance category in Excellence from the Ministry of Education, Private School Sector. Each year students who are with the school commemorate its occasion.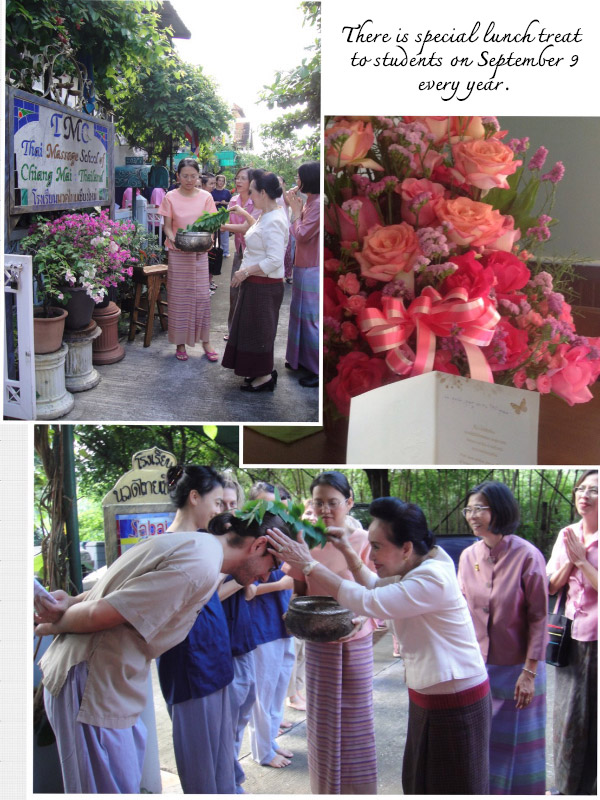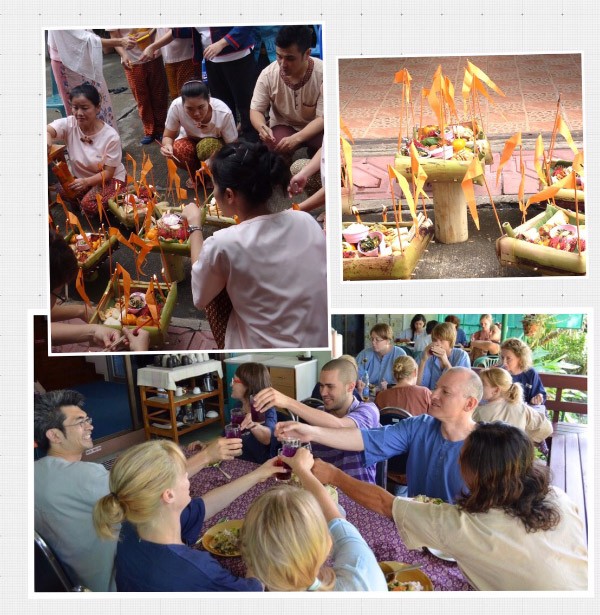 The grand moment of TMC Thai Massage School getting to be the 17th Year!
TMC teachers, staff and students and guest joined in the precious time of joy to be one loving community in learning of the ancient Thai massage on the 16th anniversary 9-9-2017 at TMC school.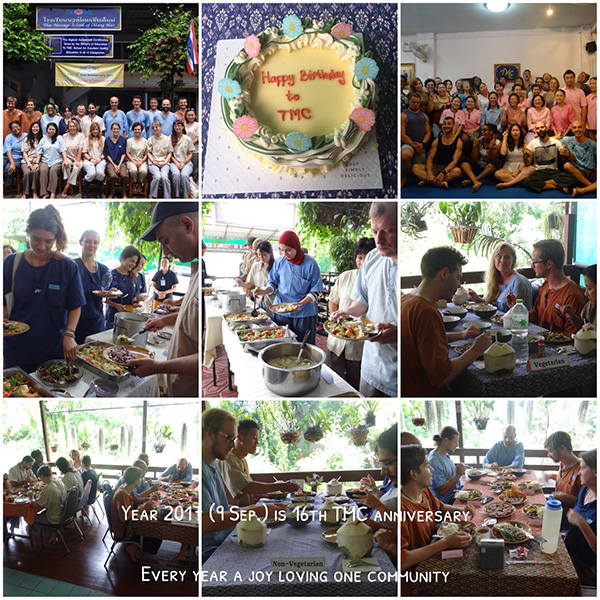 We are together on TMC 19th Anniversary 2020.
We miss our students very much on this day. Every year, we celebrate TMC anniversary with our students. This year, we share our special moment online. We are grateful for your continue support. Best wishes to everyone until we see each other again.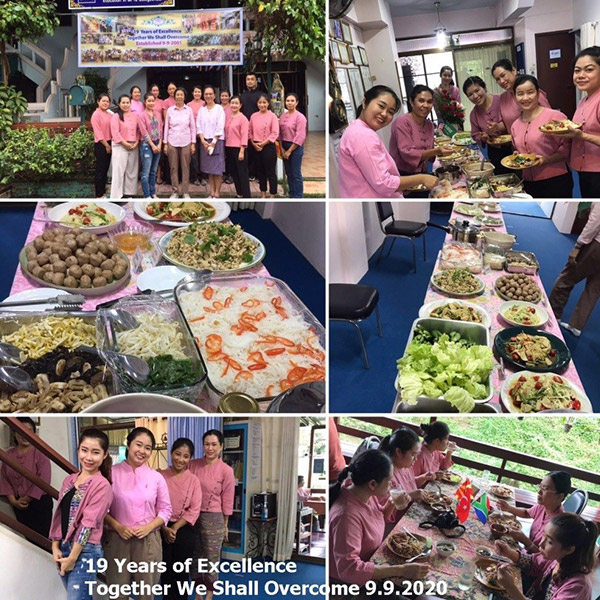 ---
Jan Chaithavuthi, TMC founder was the keynote speaker at the 6th Chiang Mai International Health Promotion Meeting 2013, held on 9-10 August 2013. Topic "Thai Massage as Holistic Healing"

Students of TMC were invited to complimentarily attend this 2 day conference.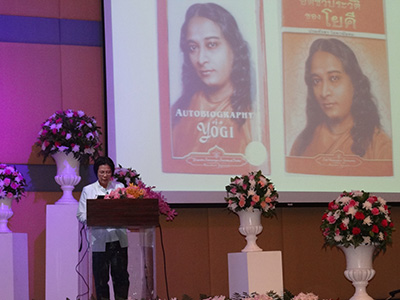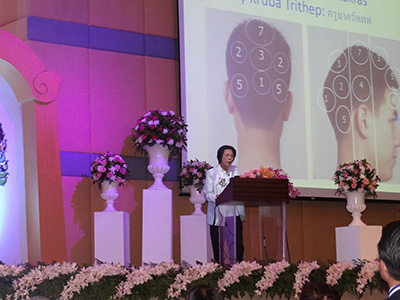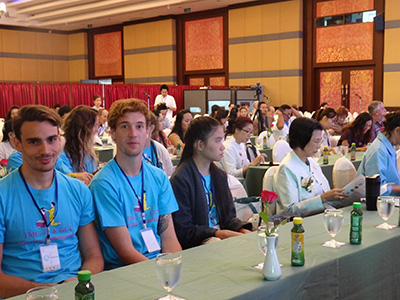 ---

Memorable Visit by Father and Son: Ronan Le Joncour from Belgium TMC GCT 300 teacher in 2006: TMC students often return to visit school as part of their trips when they travel back to Thailand-Chiang Mai. Ronan brought his son to visit the school and pointed out his photo in the alumni book. Ronan mentioned that his son wishes to take the same class like his Dad in 5 years from now! TMC is like a family to all who have been here…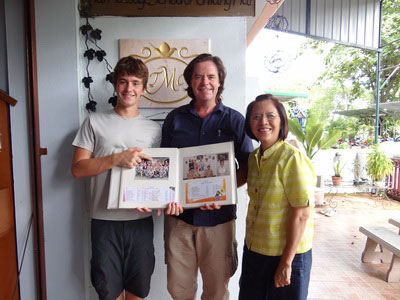 ---

Heartfelt Visit by top executives from AAMT, Australia and NHPC, Canada

Tricia Hughes CEO Australia Association of Massage Therapists. 
Colleen MacDougall Executive Manager Natural Health Practitioner of Canada
Honorable guests at TMC school. Take a tour of the school and received massage by TMC teachers.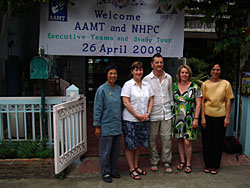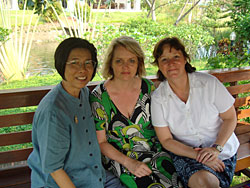 ---
Visit the children and the members at Special People Foundation Chiang Dao Disabled Center. During the opening of the Children Rehabilitation Room.

---

Faridcot, Punjab, India : 27 September -1 October, 2010 Thai Massage Healing for Special Children
---
Special Children Center Chiang Mai : 2009-2010 TMC Teacher Training Program(GCT) Thai Massage Healing Internship for Special Children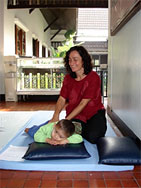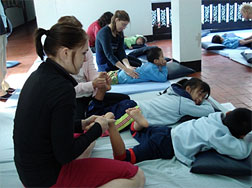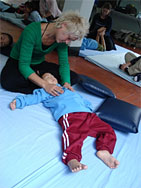 ---
Education time for TMC teachers: TMC teachers and management have the honor to visit and pay respect to our Monk teacher and our direct teacher at the temple all together during Thai New Year. Wat Nong Ya Nang, Uthaitani April 2010.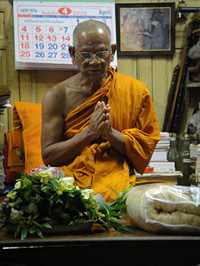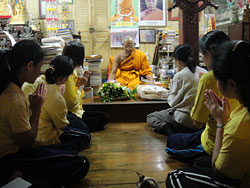 TMC teachers pay respect and receive - review and further training in therapeutic Thai massage from our great teacher "Arjan Tuan": Direct disciple for nearly 30 years from our Monk Teacher.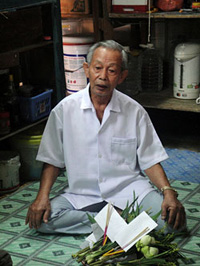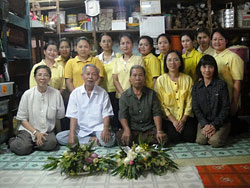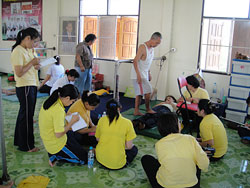 TMC team visited stroke (partial paralysis) patients at the temple compound. They perform self exercise; receive massage therapy and herbal steam.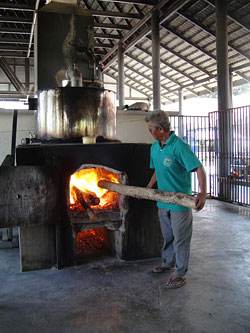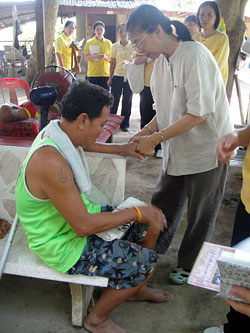 TMC team visited the famous Wat Tung Boa Pan, Lumpang - known for treating stroke patients. The temple is well organized treatment set up. They receive massage with herbs and herbal bath.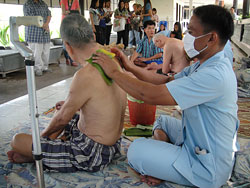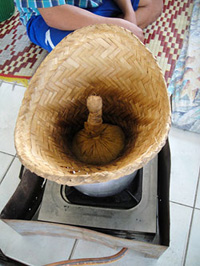 High ranking officials from Office of the Private Education Commission visited TMC 14 August 2009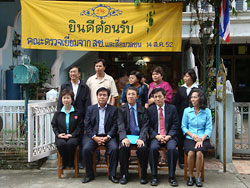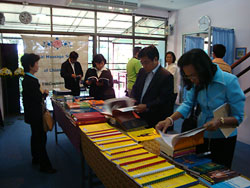 ---
Amazing result of GCT and TMC teachers training to 9 teens from the detention facility.
The girls studied 90 hour Thai massage training and volunteer to offer Thai massage to the disabled at Chiang Dao Disable Center in December 2007. 

---
TMC staff and students joined to honor His Majesty the King on his 79th and 80th birth day on 5 December 2006,2007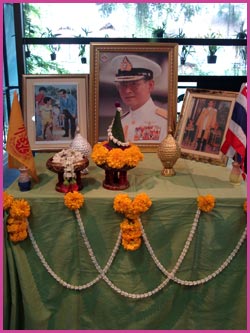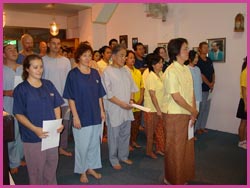 ---
Linfield College School of Nursing
Portland, Oregon, USA
13-14.01.13
---
TMC welcome therapists from Universal Touch Inc. during their 3 weeks training in Nov. 2006 and the return of Nov. 2007 group.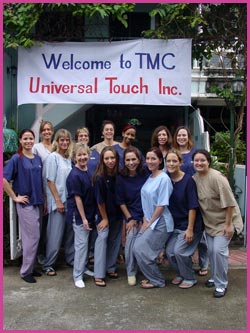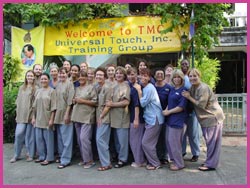 ---
TMC welcome Australia Association of Massage Therapists (AAMT) members for continuing education training in Thai massage October 2006.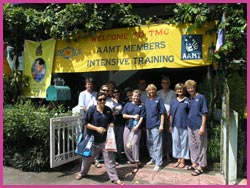 ---
GCT graduation pictures

Collection of Students' Performances. Please look at pictures in the tmc school facebook.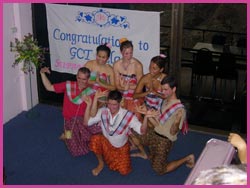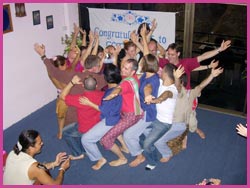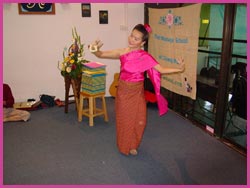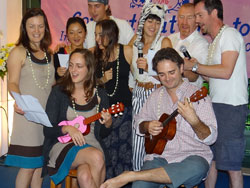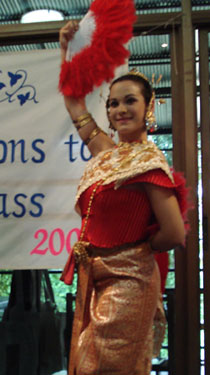 Supannika Class 2007 gave a Supannika tree to TMC… see how it grows in the rainbow!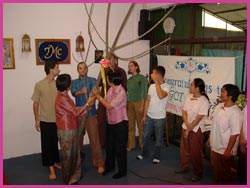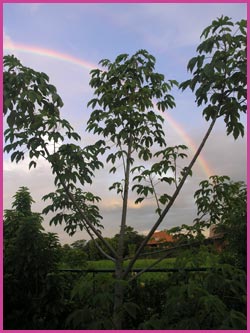 ---

Coming Event in Chiang Mai

Chiang Mai Flower Festival in February
: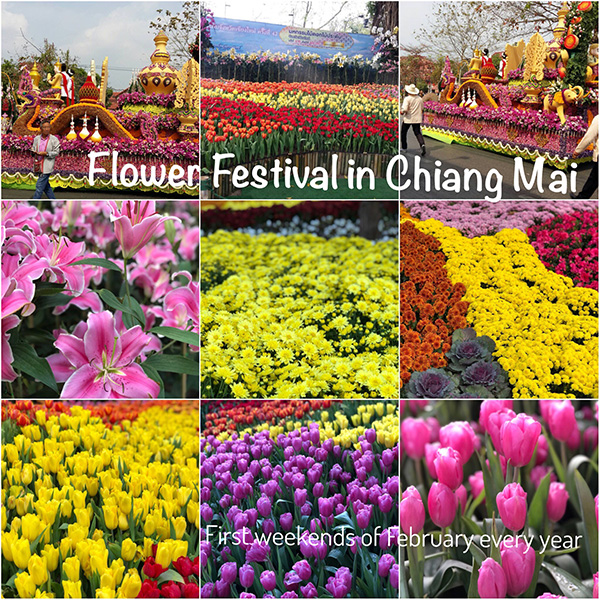 Loy Kratong: Full moon November:
The holy festival to honor the Buddha and pay respect to the river of life by prepare, decorate flower base with flower, candle, incense and float it in the river. TMC students learned how to make them and proudly finished them during their lunch break. 
Tentative schedule; students who learn the course in November during full moon period will get to enjoy how to do flower ''Krathong" in addition to the Thai massage course.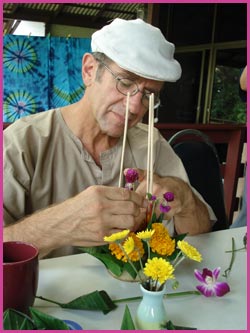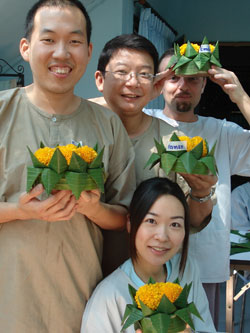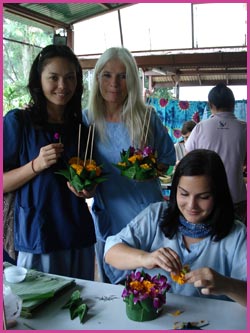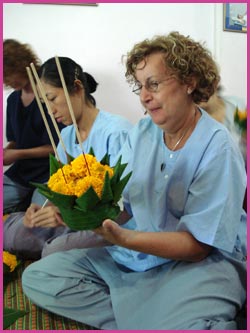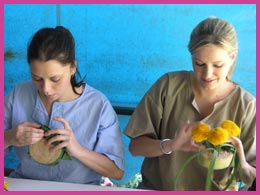 ---
TMC ANNIVESARY is 9 September:
Special lunch is enjoyed by all students that day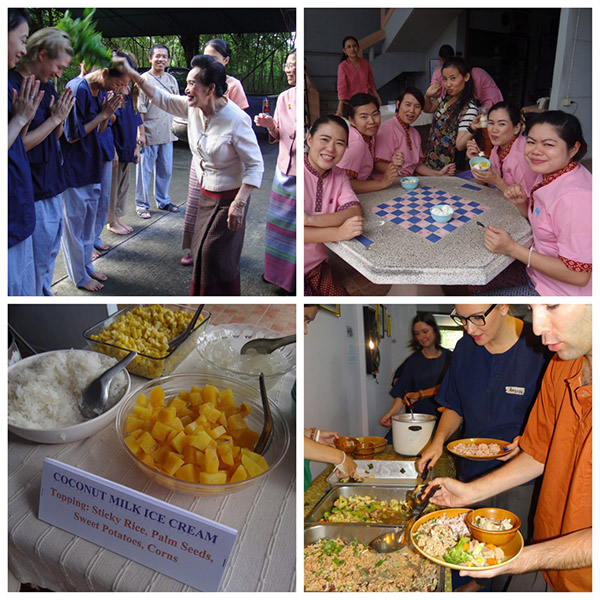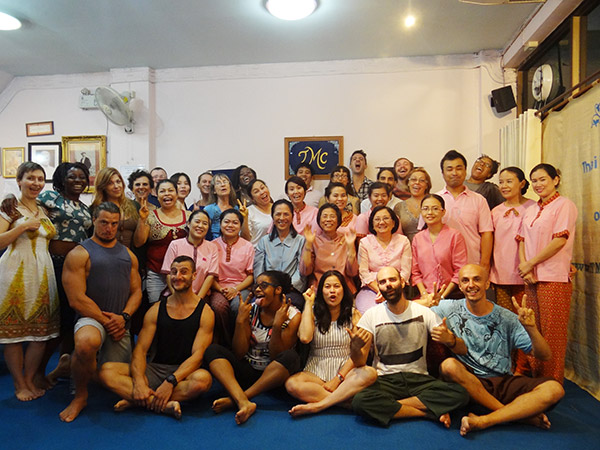 ---
Songkran festival: is considered Thai new year falls on 13-15 April.
The occasion is considered family reunion day, younger generation go to respected adults especially their parents.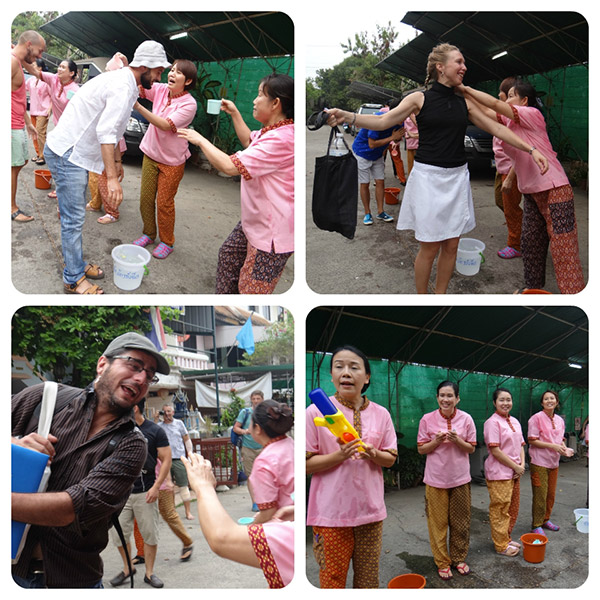 Students and staff in water game