Click here for accommodation
If you are in Chiang Mai whether enroll to TMC or looking for a school to go to for Thai massage courses, we invite you to visit the school.
The visiting hours are from 09.00 to 16.00. (9 a.m. to 4 p.m.)
You can print this page for direction to the taxi or print out the map page.
To get to TMC you need to hire a taxi – Tuk Tuk or the red pickup truck call "Song Teaw"
from the city to TMC. We are about 15 KM outside of the city. It is a new city in itself.
If you call in advance, we may be able to arrange for the school taxi pick you up from the pickup zone along with our students from 8 – 8.15 a.m. You will need to hire a ride back.
You can also go visit school in the afternoon and catch a ride back with students at 4 p.m.
You will get to see the school ground, the lecture room, inside classroom and observe silently for a few minutes, to view all text and workbooks for the courses, to sit and reflex what your goal in learning would be achieve at TMC. You may get to meet and talk with students during their break or lunch period.
Monday – Friday we have classes in Thai massage. During weekends classes may be about Foot, Chair, or Table massage. But you still get to sense how you would like to spend time study at TMC.
Direction to TMC from the city for TAXI: Print this page and show this to the driver
- or the printed Map.
โรงเรียนนวดไทยเชียงใหม่ อยู่บนถนนแม่โจ้ เลยโรงพยาบาลเทพปัญญา เลยสี่แยก
ที่ไปจังหวัด ผ่านตลาดรวมโชค ไปกลับรถหน้าปั๊ม ปตท. ขับย้อนเลยร้านอาหารและหมู่บ้านสวนนทรี ข้ามลำน้ำแม่คาวชิดซ้าย เลี้ยวเข้าซอยตึกแถว 3 ชั้น ก่อนถึงเทสโก้โลตัสมีโชค ด้านหลังโรงเรียนติดแม่น้ำ เบอร์โทร 053-854330, 053-854331
TMC Address:
203/6 Mae Jo Road,
Faham, Chiang Mai 50000
Thailand
Tel: 053-854330
Fax: 053-246203
Email info@TMCschool.com
Outside Thailand
Tel: + 66-53-854330, +66-53-854331
Fax: + 66-53-246203

Click here for Map

Accommodation
Where to stay while going to school:
TMC school locate only a short distance away from the city but in a convenient location, yet students get to enjoy peaceful environment of being in a residential area with canal in the back of the school. We encourage students to select place to stay in the city area to enjoy the activities off class time. TMC provide transportation to take the burden of looking each morning for one to get to school.

Please try to choose a place to stay from the list here. We visited them and found them to be with good reputation and in the pickup zone.

The school does not accept commission from these places (or any sources). They are convenient for your stay while study at TMC. And most importantly, they are within the pick-up areas that TMC offers complementary service for you. You may change location after you are familiar with the city and kwon where to be. Some may be in the location that is difficult for you to get around. We are not encouraging students to rent a motorbike since it is prone for accident.

Should your chosen guesthouse or hotel is out of the pick-up zone, you may have to find your own transportation to the school, or the pick-up points nearby. Be sure to check with TMC first when you book the hotel outside the list.


Guest Houses:
No.

Place

Address

Daily rate (Baht)

Month rate
(Baht)

1

Tip Top Thai House

Address: 27/2 Singharat Rd, Soi 3,
Sri Phum Chiang Mai
Tel. 053-212 232
Mobile: 081- 882 6728, 081- 960 3878
Facebook: tiptopthai.house
Email: tiptopthaihouse@gmail.com

Please contact
for rate

Please contact
for rate

2

Mountain View

Address: 103-105 Sri Poom Road
(Opposite Changpuak Gate)
Chiang Mai
Tel. 053-212 866, 053-217 843
Website: www.mountainview-guesthouse.com
Email: mountainview@csloxinfo.com

300-1,000

10,000-15,000

3

Sher Loft

Address: 7 Ratchamanka Rd. Soi 7,
Phrasing, Mueang,
Chiang Mai
Tel. 082-4484777
Email: sherloft@hotmail.com

300-500 Bht

Please contact
for rate

4

My Mum Home

Address: 40/1 Moon Muang Road Soi 9
Sriphum Chiang Mai
Tel. 053-210 603
Website: www.mymumhome-chiangmai.com
Email: mymumhome@gmail.com
Facebook: mymumhome chiangmai

450-1,000

12,000-15,000

5

Giant Guesthouse 1

Address: 24 Moon Muang Road Soi 6
Sriphum Chiang Mai
Tel. 053-227 338
Mobile: Mr.Joe 087-182 1611
Website: www.giantguesthouse.com
Email: panghatal@gmail.com

180-450

4,000-9,000

6

Giant Guesthouse 2

Address: 4 Rachphakinai Road Prasingh
Chiang Mai
Tel. 053-227 338 Mobile: Mr.Joe 087-182 1611
Website: www.giantguesthouse.com
Email: panghatal@gmail.com

120-280

Please contact
for rate

7

18 Terrace Guesthouse

Address: 18 Moon Muang Road Soi 6
Sriphum Chiang Mai
Mobile: 093-131 8155, 088-253 7858
Website: www.18terrace.com
Email: 18terrace.guesthouse@gmail.com

250-1,000

N/A

8

S.K. House II

Address: 9 Phrapokklao Road Soi 13
Sriphum Chiang Mai
Tel. 053-418 838-9 Fax.053-418 797
Website: www.skhouse2.com
Email: skhouse2@hotmail.com

400-800

N/A

9

Anoma Boutique
Guest House

Address: 57/3 Ratchphakinai Road
Prasingh Chiang Mai
Tel. 053-276 280
Email: anomaboutiquehouse@gmail.com

Please contact
for rate

Please contact
for rate

10

Anoma 2
Bed and Breakfast

Address: 7 Soi 6 Phrapokklao Road
Phrasingh Chiang Mai
Tel. 053-397 232 Mobile: 086-900 0740
Email: anoma_bed_and_breakfast@hotmail.com

Please contact
for rate

Please contact
for rate

11

60 Blue House
(Female only)

Address: 32-34 Ratchphakinai Road
Prasingh Chiang Mai
Tel. 053-206 126 Mobile: 086-919 2777
Website: www.60bluehouse.com
Email: 60bluehouse@gmail.com

200-500

Please contact
for rate

12

Smile House Guesthouse 1

Address: 5 Rachamankha Road
Prasingh Chiang Mai
Tel. 053-208 661-2 Fax.053-208 663
Website: www.smilehousechiangmai.com
Email: smile1@smilehousechiangmai.com

350-900

Please contact
for rate

13

Wanasit House

Address: 6 Rachamankha Road Soi 8
Prasingh Chiang Mai
Tel. 053-814 042
Email: wanasit@writeme.com
dumdin_999@hotmail.com

Please contact
for rate

5,000

14

Huaykaew Residence

Address: 55 Huaykaew Road Suthep
Chiang Mai
Tel. 053-895-777 Fax.053-895 777 Ext: 2
Website: www.huaykaewresidence.com
Email: info@huaykaewresidence.com

500-800

3,500-16,000

15

R.C.N. Court & Inn

Address: 24 Moon Muang Road Soi 7
Sriphum Chiang Mai
Tel. 053-418 280-2 Ext: 100
Website: www.rcnguesthouse.com
Facebook: rcncourtchiangmai
Email: rcncourt@hotmail.com

650-800

8,000-8,500

16

Chiang Mai C.M
Apartment

Address: 9/2 Moon Muang Road Soi 7
Sriphum Chiang Mai
Tel. 053-222 100-2 Ext: 0 Mobile: 085-882 2841
Website: www.cmapartment.com
Email: cmapartment@yahoo.com

900-2,500

Please contact
for rate

17

Awana House
(Dutch Management)

Address: 7 Lane 1 Rachadamnoen Road
Thapae Gate Chiang Mai
Tel. 053-419 005 Mobile: 086-470 0511 , 087-303 3411
Website: www.awanahouse.com
Email: info@awanahouse.com

400-995

Please contact
for rate

18

Boonthavon

Address: 39 Soi 1 Rachadamnoen Road
Thapae Gate Chiang Mai
Tel. 053-226 700 , 053-226 778 Fax. 053-226 966
Website: www.boonthavon.com
Email: boonthavon@hotmail.com

N/A

7,500

19

M.D House

Address: 18/4-5 Rajwithi Road Muang
Chiang Mai
Tel. 053-216 655 Fax. 053-289 524
Website: www.thaimdhouse.com
Email: mdhousecm@yahoo.com

750-990

21,000

20

Fuengfa Place

Address: 9/1 Arak Road Soi 3
Sriphum Chiang Mai
Tel. 053-417 207-8 Fax. 053-417 209 289 524
Website: www.fuengfa.com
Email: fuengfaplace@yahoo.co.th

Please contact
for rate

Please contact
for rate

21

Pachkit House

Address: 8/1 Arak Road Soi 7
Prasingha Chiang Mai
Tel. 053-814 759 Mobile: 081- 594 2672 (Nam)
Website: www.pachkit.com
Email: pachkit@hotmail.com

600

7,500
Hostel:
No.

Place

Address

Daily rate (Baht)

Month rate
(Baht)

1

At Baan Khun Tour
& Hostel

Address: 119/10 Thapae Road
Changklan Chiang Mai
Tel. 053-273-415 Mobile: 080-593 6478, 093-264-1297
Email: bankhuntour@gmail.com
Facebook: KHUNtourandhostel

150-200

N/A

2

Hug Hostel

Address: 115/3 Sriphum Road
Sriphum Chiang Mai
Tel. 053-417 222 Fax. 053-417-060
Website: www.hughostel.com
Email: info@hughostel.com

220-520

N/A

3

Hug Bed and Breakfast

Address: 114 Maninopparat Road
Sriphum Chiang Mai
Tel. 053-215 139 Fax. 053-215 139
Email: hugbedandbreakfast@gmail.com

279-345

N/A
Hotels:



Walking Distance to School: No school taxi available

No.

Place

Address

Daily rate (Baht)

Month rate
(Baht)

1

The Y Residence

Address: 7 Moo 6 Faham Chiang Mai
Tel. 053-010 227 Fax.053-010 228
Website: www.theyresidence.com
Facebook: The Y Residence

N/A

8,000-9,000

2

The Y Boutique Hotel

Address: 321 Moo 5 Sansai Chiang Mai
Tel. 053-014 222, 053- 014-333
Fax.053-014 353
Facebook: The Y Boutique

900-1,200

Please contact for rate

3

Le Siri

Address: 88 Moo 8 Sanphisue Chiang Mai
Tel. 053-230 285 Mobie: 087 667 7888
Website: www.lesiri.com
Email: admin@lesiri.com

1,000-1,200

N/A

4

Buddy Residence

Address: 105/16 Ban Tong 3 Moo 3 Faham Chiang Mai
Tel. 089-559 5533, 084-912 5088
Website: www.buddyresidence.com
Email: buddyresidence@yahoo.com

450

3,500-7,000

5
Baan Ruam Chok
203/3 M.6, Faham, Mueang, Chiang Mai 50000
Tel. (+66) 085 5699789, (+66) 086 2928554
Website: www.BaanRuamChok.com
Email: BaanRuamChok@gmail.com

550-600
9,000-9,900
6
A Boutique Hotel
204/29 Moo 6 T.Faham A.Mueang Chiang Mai 50000
Tel. (+66) 097 942 3410
Facebook: A Boutique Hotel Chiang Mai 
Email: ahotel2016@gmail.com
690-790

15,000-19,000

Please see the map of residents nearby school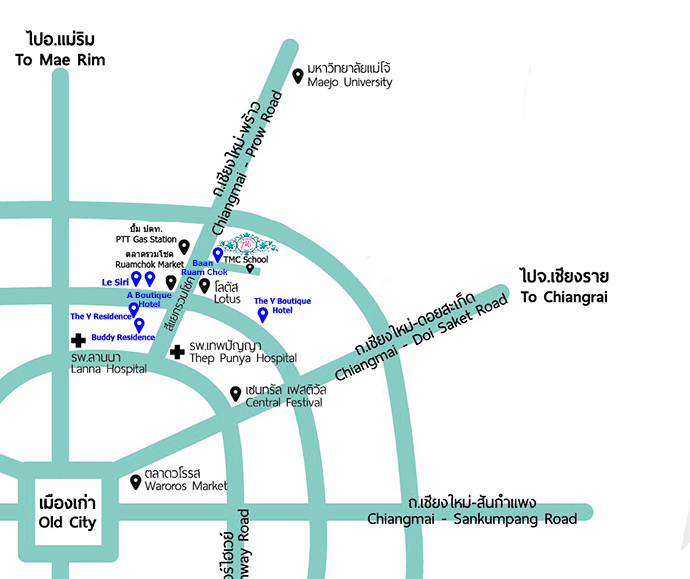 NOTE: Long-term stay will have to pay extra for utility such as electricity and may be water. They may require a month deposit and minimum stay. Be sure to discuss the term well before making commitment. Some will provide cleaning service once a week. Some may not and may not have bed sheet included.

If your place is not from the list above, be sure they are within the pick-up zone. So, check the address and the pick up points below. Best to ask TMC before you book with them. If you choose to stay outside the pick-up zone, we will make an appointment to pick up only these pick up points.   Click here for Map of Pick up Points 
Pick up points:
Road/Area

No.

Pick up points

Inside Old City

Sriphum

1

Chang Puek Gate ( Mountain View Guesthouse)

Rachapakinai

2

Chiang Man Temple

3

Anomaboutique Hotel

Rachadamneon

4

AUA library

Rachamankla

5

Rachamankla Lane 9 (at the entrance)

6

Phakao Temple

Singharaj

7

Tip Top Guesthouse

Samlan

8

Prasingh Post Office

Arak

9

Arak Lane 3 (at the entrance)

Rachavithi

10

Rachavithi Lane 2 (at the entrance)

Prapoklao

11

Fonsoy Temple (near SCB Bank)

12

Jedi Luang Temple (7-Eleven)

Moonmuang

13

Thapae Gate ( Burger King Thapae)

14

Somphet Market (7-Eleven)

Outside Old city area

Thapae

15

Thapae Lane 4 (at the entrance) Mahawan Temple

Loykroh

16

Loykroh Temple

Changklan/night bazaar area

17

McDonald Night Bazaar

Sridonchai

18

Chiang Mai Plaza Hotel

Jaroenprathet

19

Pornphing Hotel

Changmoi

20

Changmoikaow Road (at the entrance)

Santitum

21

View Doi Mansion

Huaykaew

22

Shell gas station next to Kadsuankaew Mall

Assadathorn

23

Royalpannarai Hotel
IMPORTANT NOTE: No taxi will go to the points that no students  inform for pick up.
Map of Pick up Points
TIP in finding accommodation:
Do not make a long term hotel reservation unless you are sure of your preference.
GCT students should rent for long term with more facility such as kitchen, T.V. refrigerator etc. in order to save cost.
Regardless of where you book, BE SURE to keep your promise to show up.

This is the kind gesture to the next TMC students who wish to seek service from these honest business providers.

Please see the MAP our pick up zone below. Be sure to check the road on the list above too.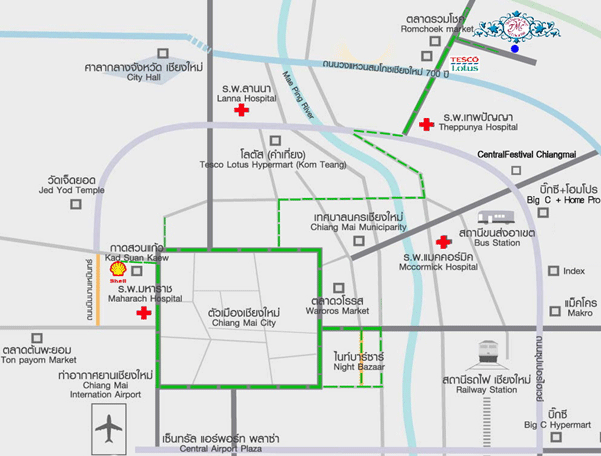 Direction for Taxi: Please show them this direction in Thai. The driver can call the school for direction. Most of them have cell phones.

TMC: โรงเรียนนวดไทยเชียงใหม่ หรือ ทีเอ็มซี อยู่ถนนเชียงใหม่-แม่โจ้ ตรงข้ามตลาดรวมโชค เลยตลาดเป็นปั้มน้ำมัน ป.ต.ท (PTT) กลับรถ วิ่งย้อนขึ้นมาผ่านหมู่บ้านสวนนนทรี ข้ามสะพานแม่คาว ก่อนถึงโลตัสมีโชค ให้เลี้ยวซ้ายเข้าซอย ดูป้ายโรงเรียนหน้าปากซอย (จะเห็นตั้งแต่หน้าตลาด)
Tel. 053 854 330, 053 854 331, Mobile. 081-111 2001





Tips to Make Living in Chiang Mai Easy
School Preparation Tips &
Place to Stay
Preparation for learning at TMC:
Outfit:
TMC provide practice clothe while in class at TMC. For field training, students will provide own outfit and should maintain politeness and practical for each purposes i.e. to give massage, to teacher massage class, to learn Thai Traditional Medicine, to the Botanic garden, sun glasses, walking shoes, rain jacket, umbrella. Outfit for going to-from school, please keep it polite. Shorts are all right as long as they are not too short. Try to avoid too expose tank top and very low cut top. We ask for the cooperation because TMC is a government accredited school and dress code is part of the school's policy. Before your depart, please check weather forecast to prepare your clothes.

For Classroom:
TMC provide textbook, workbook, manual for all classes and handouts for professors lecture classes. TMC has reference books in anatomy, pathology, physiology and related to massage education for you to read at school and to loan for home study. You only need to bring pen, notebook, and your personal study need such as dictionary.

Computer:
TMC provide free WiFi service to students. You only need to bring your own laptop and can use them off classroom – during your break and lunch. We facilitate computer and printer for students to use during the break time, when available. Note: TMC cannot be responsible for any lost or damage to your computer for using this free service.

Smoking Policy: 
Thai massage practice is closed contact. Smoking remains on hands, clothes and linen. Thus affect students and teachers in class. For everyone health and healthy school environment, TMC observes strict no smoking policy during school hour from 09.00-16.00.
Tip in getting around:
From the air port to your guest house or to TMC:
Take the airport taxi. They charge about 150 Baht per car to the city area. To TMC may be a bit higher because TMC is outside the city area about 300 Baht. Just give them the name and phone number of the place your wish to go. They will find out the exact address and take you there. The airport service is safe and inexpensive.

Getting around within the city, just flag the taxi which is the red pickup truck running around town and the fare is 20 Baht per short distance. You just tell the driver your destination. If it is farther than a simple stop, he may charge you more. For much farther or more remote and he will not have other passengers along, he may charge you a personal rate depending on where you are going may be from 60-80-100 Baht or more. It is best to ask someone to write your destination in English and Thai for you to show to the driver. You should carry this bilingual instruction of your hotel and the school in pocket, so you can get back and also carry the phone numbers.

Going to school each day is no trouble. TMC provide free transportation from your guest house with in pickup zone to-from school.



Tip in using telephone services:
If you have cell phone in your country, it may be useable in Thailand. You just buy a new sim card and top up card for air time. Make sure to check which type of card will work with your phone. Go to a large cell phone store and they can help you. The cost is about 100+ Baht for the sim and the air time. Be sure to keep school number and your guest house in your phone and give your phone number to the school for contact. In Thailand you only pay when call out no charge to receive the call. So, you can give your number to your family to call you. When calling out from your Thai cell phone or any public phone within Thailand you need to dial all numbers including 0 i.e. 053-854330 (TMC number) or 081-111-2001 (Cell phone of TMC). Call from outside to Thailand, will have to begin with 66+ all numbers except 0 i.e. 66-53-854330, 66-53-854331 or 66-81-111-2001.

Try not to use your number from your country to call in Thailand. It is very expensive and we cannot call you back to that number. When calling from Thailand, there are many service providers with competitive fees. You may ask your Thai phone service provider which service is least expensive to call to your destination countries. The prefix may be 004, 006, 007, 008 and 009. They have promotion at various times. Check first then use that prefix to call it will save you a lot of calling fee. Use 001 as the last resource of when the low cost access does not available for your country. It is the most expensive one to use to call outside of Thailand.

It is best to change to Thai sim card. Even your phone does not work then buy the cheapest new cell phone less than 1,000 Baht comes with the sim and air time. When buying the phone, you will need to present your passport I.D. The cost of calling from cell phone is a flat rate. Check with your phone dealer.
Tip for health and personal safety:
We highly recommend that you obtain Traveling Medical Insurance from your country before departing. The insurance will help you in time of accident and medical need.

Thailand is conscious about health and welfare of all people.

TMC school is taking the preventive step seriously. We have a bathroom in each classroom with proper cleaning facility. We request teachers and students to maintain their cleanliness as well as the extra precaution of using alcohol for their hands before and after giving and receiving massage. We also have policy that has been in place for all along that no sick staff or students may be at the school. They are to seek care from the medical professionals. Check with your doctor if you have health limitation. You should bring and prepare your medicine and/or vitamins enough for your trip duration. For personal items i.e. toilette items are easily found in many varieties. Laundry service, should seek outside hotel. You can find along the road shop for 3-5 Baht per piece. You can also use laundry machine service.

Personal safety in Chiang Mai is like in other part of the world. A few bad people make us be aware, alert and careful. So, practice caution and safety concern. Obtain only legitimate agent or organization for services, i.e. tour, shipping goods. Do not deal in illegal drugs. The punishment is severe. When you are in doubt and need help, contact the school for help, for emergency contact the police.

Emergency number is 191 from any phone. Beware of language difficulty. But call. They can try to get a translator to help you also at the police stations do have translators.

If you are involved in car or motorcycle accident, you must go to the hospital. All vehicles have personal liability insurance to take care of medical cost. If you rent a car, they have insurance. You must ware helmet riding a motorcycle. You must ware seat belt riding a car in the front seat. You should also have international driver license to operate vehicle.

Anything that happens be sure to contact police right away 191. When you get sick and need urgent help, you can call 191 or the hospital in your area.

In Chiang Mai, we recommend that you call Chiang Mai Ram Hospital at 053-920300 or 191 to take you to the nearest one for emergency. If non- life threatening, then try to contact Chiang Mai Ram Hospital. They will send a hospital van to bring you in and return at no charge (if available). The hospital service fee is much less than in the western countries but the service is equal. So, seek help when you need them and do let the school know. The hospital will work with your insurance firm for you if that is possible.